Aarhus is a cozy city with lovely pedestrian streets such as the stretch between the city's main railroad station and Aarhus Cathedral. The attractions in the same city center area are interesting to see, and there is also access to the beautiful and relatively new city scape along the river Aarhus Å.
Aarhus's churches are also some interesting places to visit. The city's cathedral is one of the country's largest churches, and the neighboring Our Lady exudes medieval character. The contrast from here to the new buildings in the port area of ​​Aarhus is great and perspective-rich as each a contemporary architectural gem.
Aarhus also has a few must visit museums, where some of the well-known ones are the ARoS art museum and the fantastic market town environment from a bygone era in The Old City. The Old City is a unique market town museum with a collection of older houses that have been moved to here, and in addition you can visit places that stand as time capsules, for example, from several periods in the 1900s.
In the vicinity of Aarhus, the sights are also numerous, and there is a great variety of possibilities. Beautiful scenery, old mansions and thrilling amusement parks for children of all ages are just some of the things you can choose to see and do. For the maritime interested, both S/S Hjejlen and the frigate Jutland are internationally unique activities.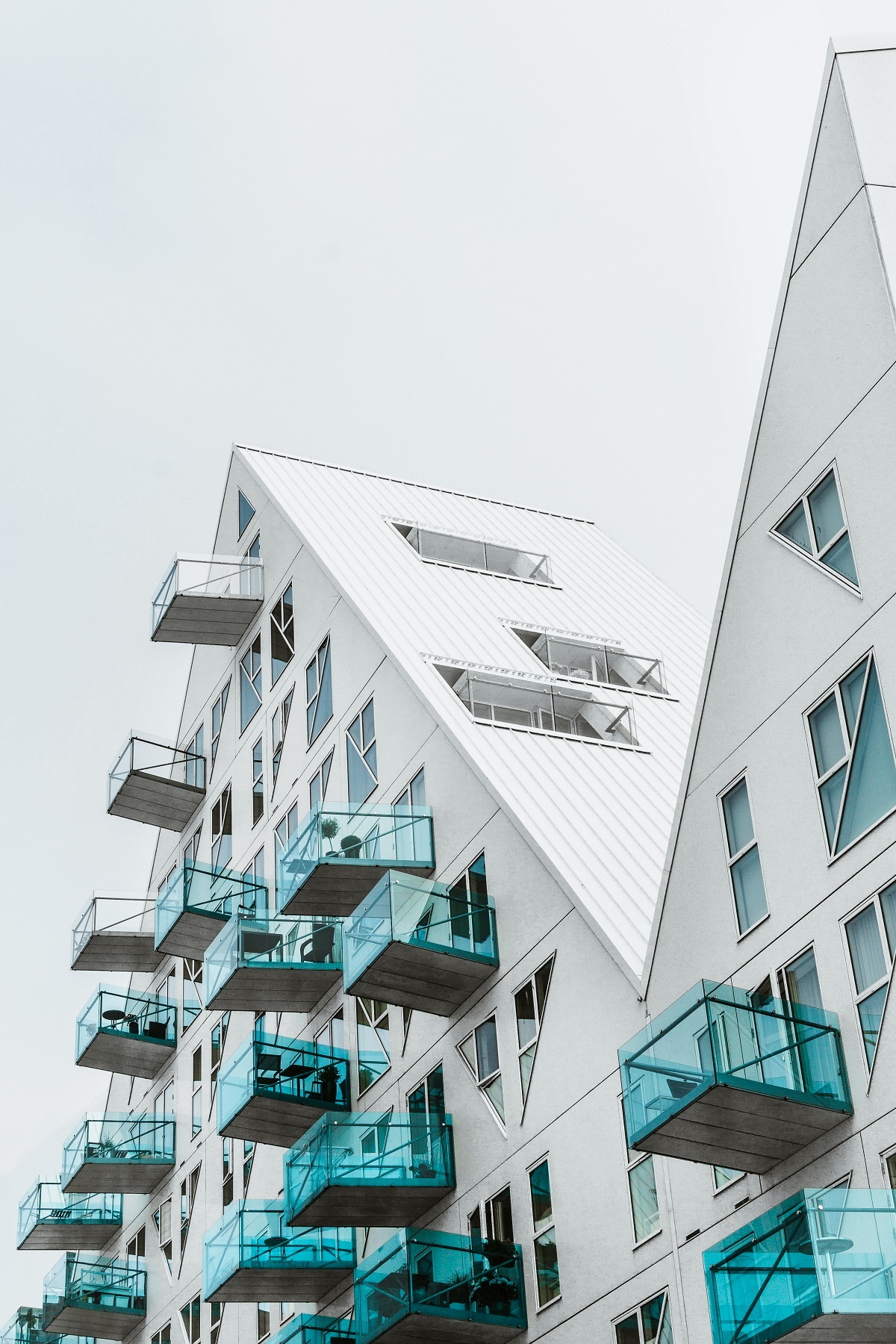 Havneholmen: In Aarhus, large areas of former industrial harbor have been developed with architecturally interesting buildings. You can go for a walk and look at, for example, the characteristic white houses called Isbjerget or The Iceberg.

The Viking Museum/Vikingsmuseet:

During excavations for the modern bank building at St. Clemens Torv, remains of the city's old Viking ramparts were found, and they can now be seen at the Viking Museum, which is housed at the site.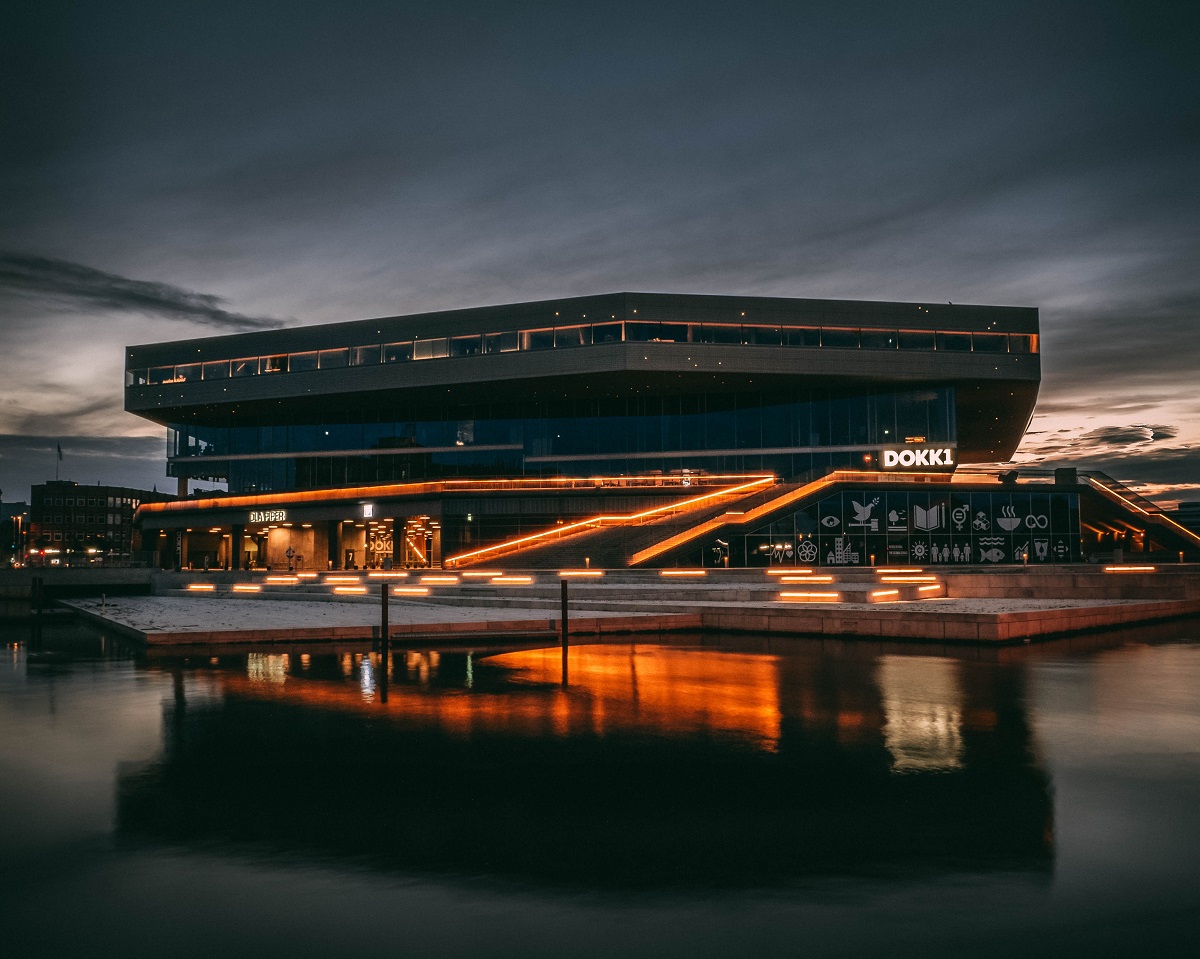 Dokk1:

Dokk1 is the name of the Aarhus cultural flagship at the Port of Aarhus.

Dokk1 hosts various institutions, which not least include the Aarhus Main Library, municipal services and halls with space for eg theater and concerts.

Strøget:

The two streets Ryesgade and Søndergade together with Sankt Clemens Torv form the central pedestrian street in Aarhus.

The streets also go by the name of Strøget and with about 850 meter/2,800 feet it is one of Jutland's longest shopping streets.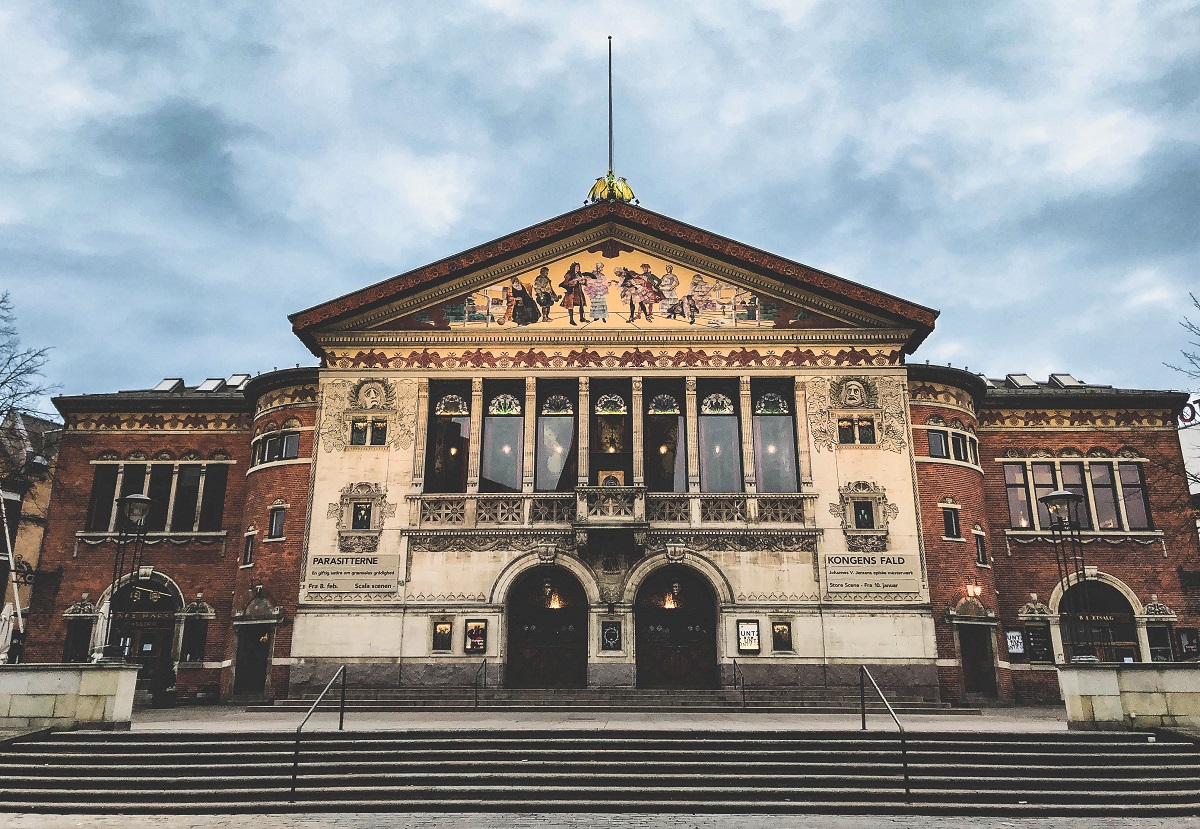 Aarhus Theater/Aarhus Teater: This is the city's large theater stage. The beautiful building was erected in the 1890s on the initiative of theater-interested citizens, and it was the well-known architect, Hack Kampmann, who designed the theater.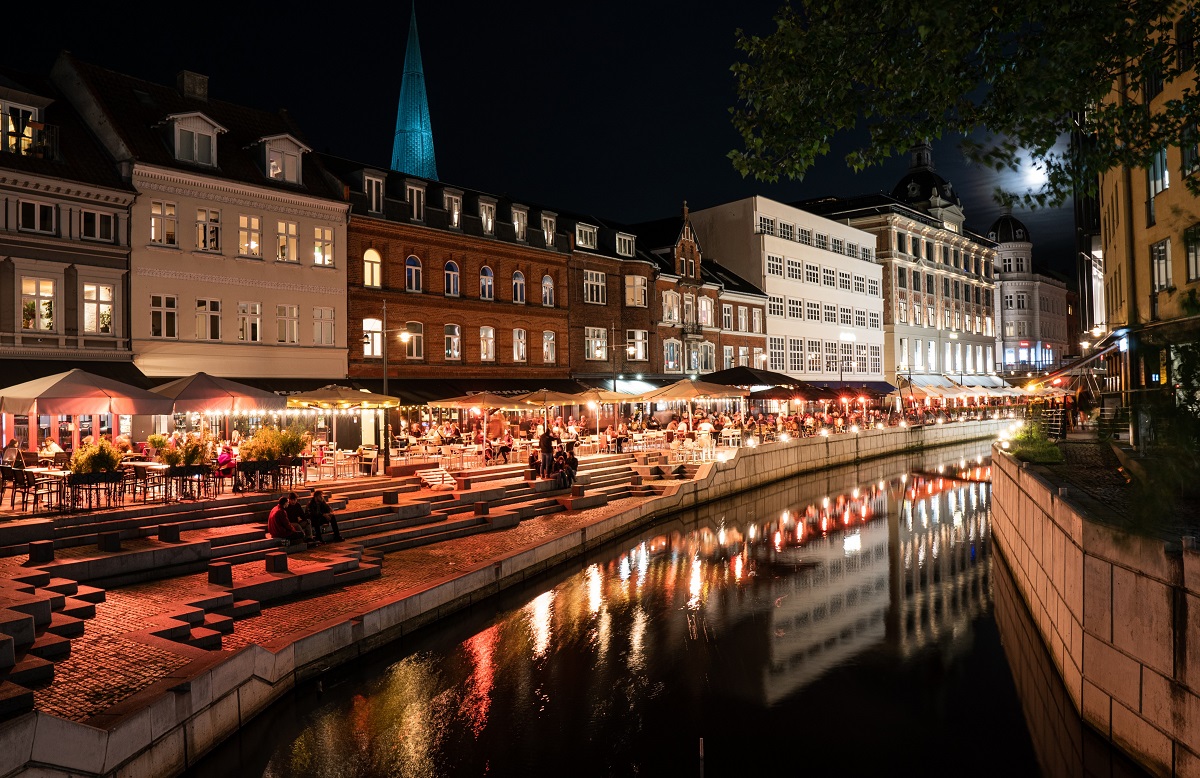 Aarhus Å: Through the center of Aarhus you can walk along the small river, Aarhus Å, and enjoy the cozy cafes and restaurants located along the street Åboulevarden. You will find a nice outdoor life in the city here.
[expand title="Read about city history" id="historie2" swaptitle="Hide content"]
The foundation

The history of Aarhus dates back to the Viking Age and was first mentioned in 948 by Adam of Bremen. Remains of a marketplace from the 8th century, houses and workshops from the 9th century as well as rune stones from around the year 1000 were found. However, there was an actual settlement already in the 7th century, but this one was at Åby at the eastern end of lake Brabrand Sø.

The city was surrounded by urban ramparts and a moat that surrounded the small settlement at the mouth of Aarhus Å in the Bay of Aarhus. Aarhus Å played a significant role for its location as the inner harbor for the city.

Just Aarhus Å was also the important trade route for the first settlement at Brabrand Lake, and the city's first name, Aros, referred to the new location with the meaning estuary.

Development and a new cathedral
Around the year 1200, the current Aarhus Cathedral was started just outside the city's very old area. The church was founded by Bishop Absalon's friend Peder Vognsen, who was a bishop in the diocese.

The cathedral building was the starting point for Aarhus' first major expansion, and right up to the Reformation in 1536, Aarhus Cathedral played a central role in the daily life of the city. Despite various setbacks for the city over the following centuries, not least the monastic monks propelled the city forward.

From the middle of the 13th century several large plants were established in the city. Store Torv and Lille Torv were new central places created during this time, and at Lille Torv a hospital was established.

Around the year 1300 the city flourished, which led to a larger expansion. Here, among other things, the city's first and thereby oldest town hall was built at the cathedral. Aarhus' growth in buildings, population and trade continued in the 1400s, and in 1441 the city gained market town rights. That same year, the city received Christoffer from Bavaria as a prominent guest in Aarhus.

Further expansion
In 1477, King Christian I of Aarhus allowed the city to build on the surrounding defense works to ensure the city's continued expansion. This could be done because the areas had lost their military significance, and thus new streets such as Graven and Volden could be laid out. In the 15th century, the Aarhus Latin Quarter was also established.

After the Reformation in 1536, Aarhus' larger merchant farms became important factors of power in the city's government and for its development, which was driven by trade for a long time.

The mid-1500s also became the starting point for a long-term recovery in Aarhus. It lasted until the mid-17th century, which became a period of much foreign penetration into the city. In 1627-1629 the city was attacked by imperial troops, and in 1644 and again in 1657-1659 the Swedes ravaged the region. In addition to the attack, Aarhus was also subject to fire tax.

Despite the assaults and a plague epidemic, Aarhus's trade developed throughout the 17th century. The primary markets were in addition to Denmark and Norway: Lübeck, Amsterdam, England, France and Spain. The merchant fleet consisted of about 100 ships and the city was at its commercial peak.

1700-1800s
In the first half of the 1700s, there was a decline in trade, and economically it went back to Aarhus as in many other Danish cities. The merchant fleet was halved and many of the former trading markets lapsed. By 1769 the population had dropped to about 3,500.

In the early industrialization of Aarhus, small industry and workshops started in the old grocery stores in the Mejlgade neighborhood, already built in the earliest era of Aarhus.

In the 19th century, Aarhus grew, and by 1850 the city had overtaken Randers and Aalborg as Jutland's largest. It had in a very short time become a big city in Denmark.

The town center extended to the current railway station district, and many imposing town houses and institutions were erected, for example along Søndergade, which over time developed into part of the city's main street.

In 1847 a major development of the port areas on the Gulf of Aarhus began. The work was completed in 1861, and together with Jutland's first railway, which opened in 1862 between Aarhus and Randers, helped to strengthen Aarhus as the region's leading city and the second largest city in the Danish Empire.

Aarhus's cultural development followed the economic boom, and institutions such as Aarhus Theater were established on the initiative of a group of theater-interested residents. The construction was pompous in relation to the size of the city, which helped to emphasize the city's leading role.

The 20th century to the present
Throughout the first half of the 1900s, Aarhus continued to develop, and a significant part was the establishment of the University of Aarhus, which with its large academic and geographical area made the city the leader in the country after Copenhagen in the field of education.

Aarhus is still characterized by the active student and research community that developed together with the founding of educational institutions. Today, Aarhus has about 300,000 inhabitants, and it is characterized by a very active business community as the center of Jutland.

The cultural boom that started in the 19th century continued through the 20th century to the present day. The Old Town shopping mall is a unique museum, and with the Music House, the modern art museum, ARoS and the Aarhus Main Library in the newly developed harbor area, the city is well underway. Investments are also being made in Aarhus in other ways, and one of them is the city's infrastructure with the city's new and modern light rail, which was inaugurated in 2017.
Skjul indhold her[/expand]
Find cheap flights and hotels