The city of Ajaccio is the capital of the island of Corsica, which has been under French rule since 1768. The island and Ajaccio are known for a lovely climate, beautiful scenery, beaches, good food and as the home town of Napoleon Bonaparte.
Napoleon entered world history in the decades following the French Revolution in the late 1700s and early 1800s. Napoleon's life and name are central to some of the sights and the tourism during a visit to Ajaccio. You can see his birth home, museums about his life and history and in this context also the history of the island. There are also cafes and more in his name.
As a regional capital, Ajaccio is a smaller city, making it easy to visit and experience. Narrow streets, beautiful squares and palm-lined promenades along the water characterize the town, which also offers nice churches and interesting museums such as Ajaccio's fine art museum. Palais Fesch is Ajaccio's leading historical residence, and the beautiful building is now home to the Museum of Fine Arts. 
In the vicinity of Ajaccio there are not far between the sights in the nature. Enjoy countless beautiful beaches along the coasts. Cliffs and fortifications along the sea can also be seen; just as Napoleon's country house is close to the Corsican capital.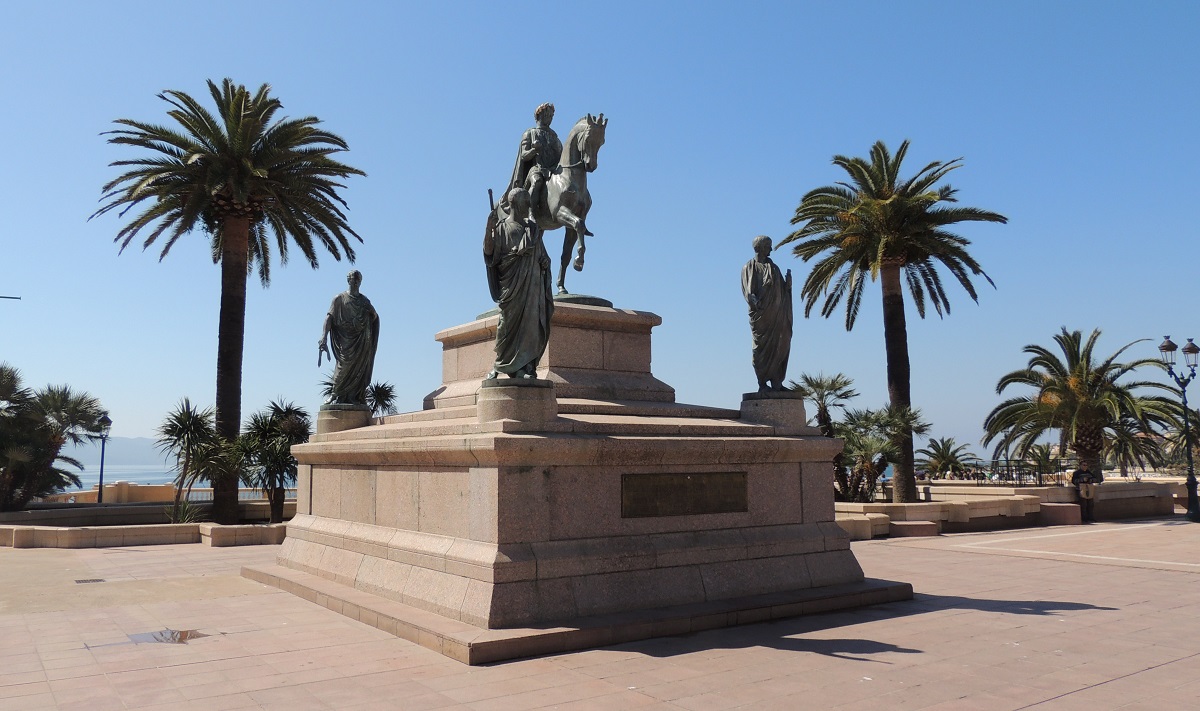 De Gaulle Square/Place de Gaulle

: Place De Gaulle is one of Ajaccio's major squares.

It is beautifully located down to the sea and it offers a beautiful panoramic view.

At the square you can see a monument from 1865 built in memory of Napoleon and his brothers.

Pascal Rossini Boulevard/Boulevard Pascal Rossini

: A walk along Boulevard Pascal Rossini emphasizes Ajaccio's beautiful location at the Mediterranean Sea. There are palm tress and a lovely promenade a

long the boulevard, which is very much worth a stroll just to enjoy the surroundings and the view to the sea.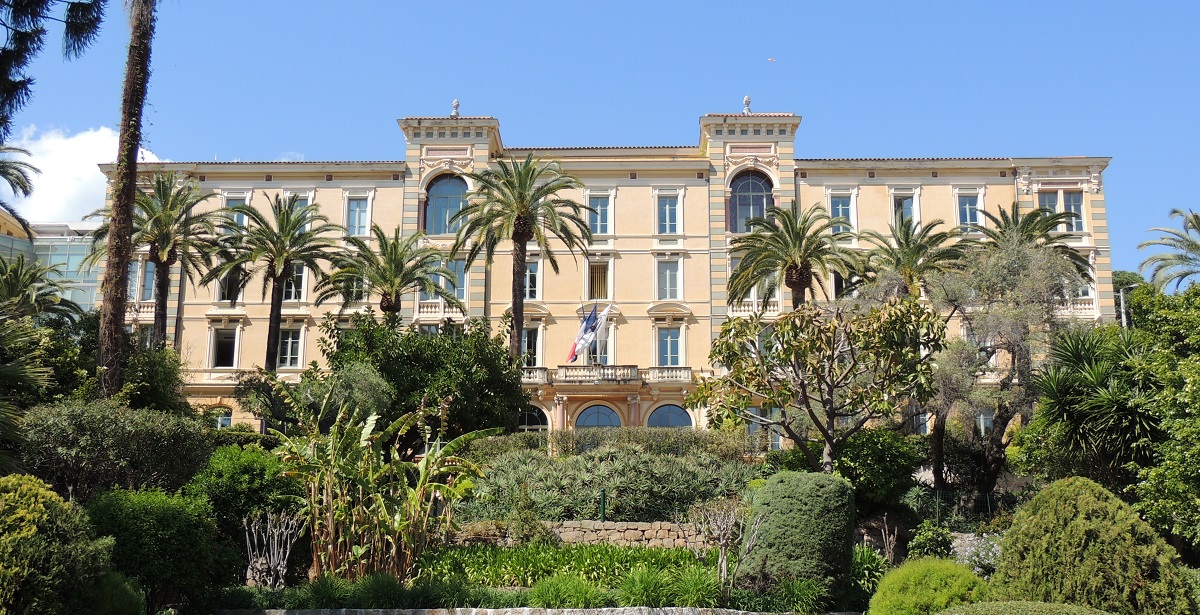 Corsica's Parliament and Administration (Grand Hôtel)/Collectivité Territoriale de Corse (Grand Hôtel)

: The impressive Grand Hôtel was built in Ajaccio 1894-1896.

Today, the building's status as a hotel is history, as the Corsican parliament and administration have their seats here, Collectivité Territoriale de Corse.

Château Conti

: The mansion, Château Conti,

was built from 1855 by the financier Stephane Conti.

The style is neoclassical, and the mansion is one of several examples of fine residences along the street Cours Grandval, linking Place Foch and Place d'Austerlitz.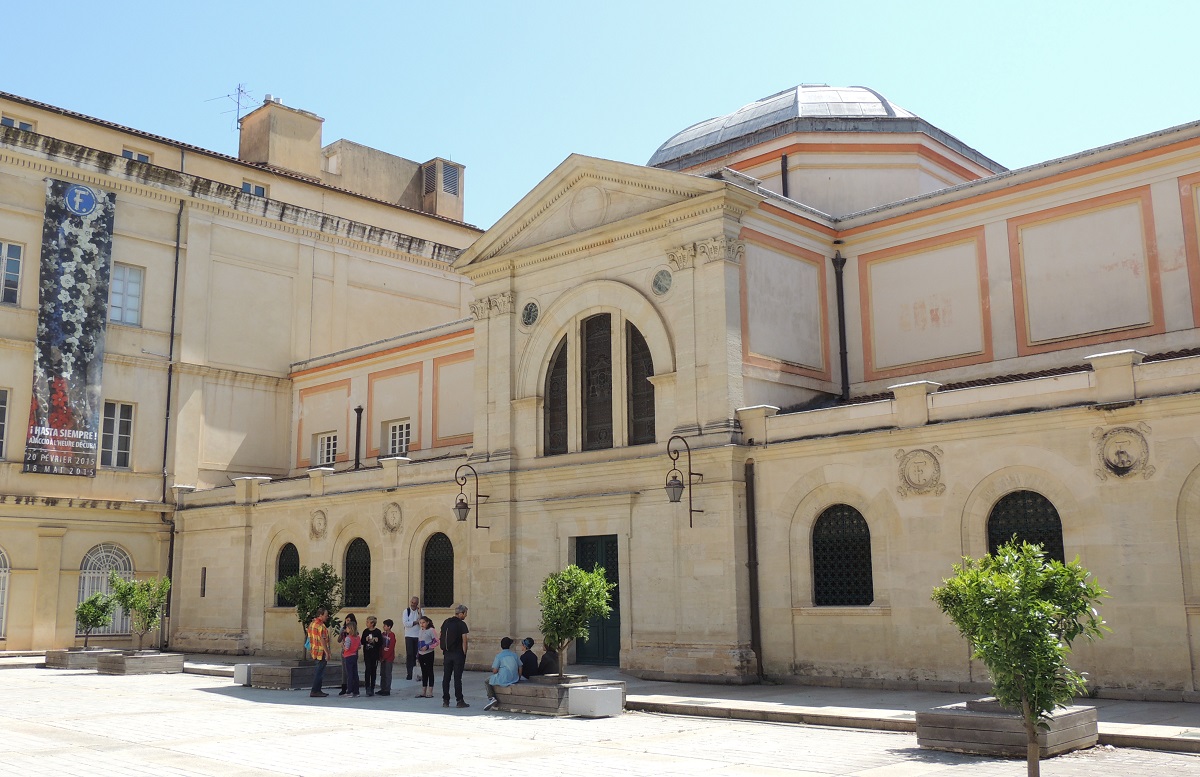 The Imperial Chapel/Chapelle Impériale

: This chapel was consecrated in 1860 with the support of Napoleon III, who liked to see the chapel completed.

The church's interior is beautiful with marble decoration and various floral patterns, etc.

Rue de Cardinal Fesch

: Rue du Cardinal Fesch is Ajaccio's pedestrian street with shops and restaurants.

It is named after Joseph Fesch, a French cardinal, diplomat and uncle of Napoleon.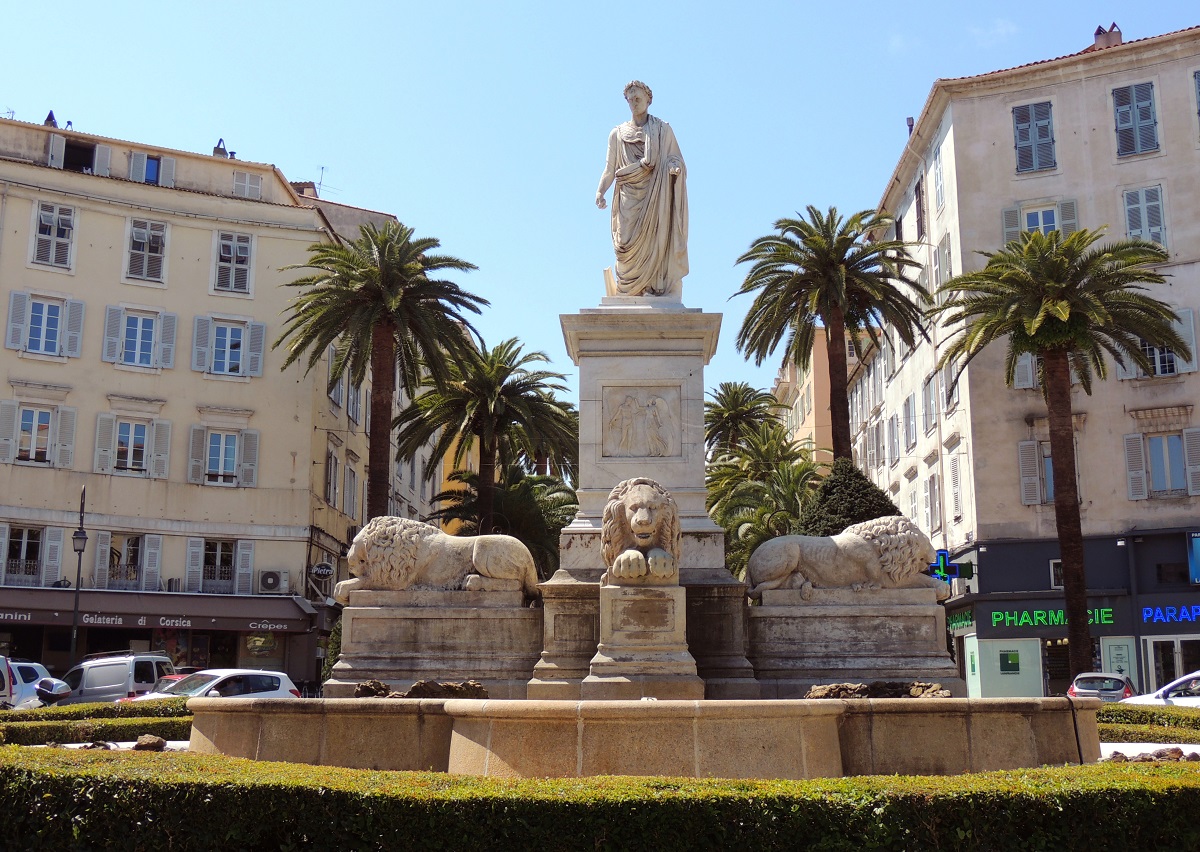 Foch Square/Place Foch

: Place Foch is a beautifully landscaped square in central Ajaccio.

At Place Foch you can see a statue of Napoleon standing as a Roman consul.

Villa della Rocca

: For art lovers and connoisseurs of Henri Matisse, this house is interesting.

Matisse lived in the house, and from his window he painted the work Le Mur Rose de l'hôpital d'Ajaccio in 1898.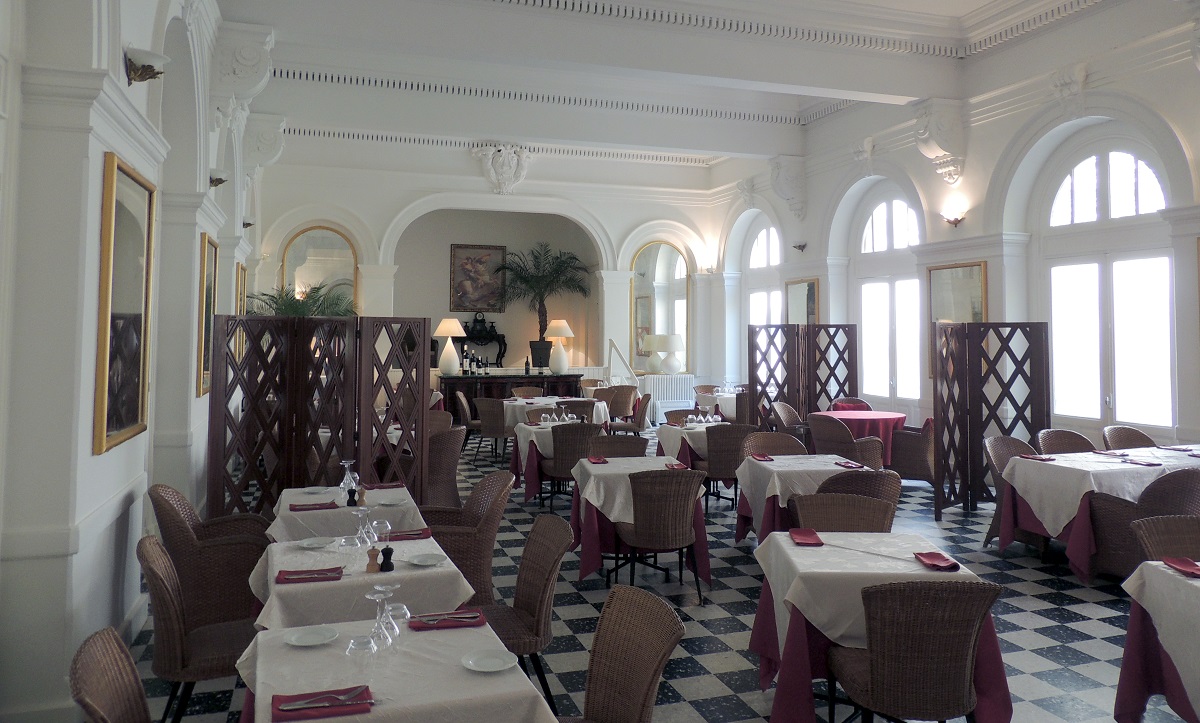 Grand Café Napoléon

: Grand Café Napoléon is one of Ajaccio's many fine cafes.

Many of them may be a good choice for a cup of coffee or the local beer Pietra.

The Grand Café Napoléon is a good choice with its atmospheric and elegant back room.
Read about city historyHide content

Roman origins of the city




It is believed that the beginning of Ajaccio dates back to around 100 century BC.

It was a time of prosperity in the Mediterranean economy, and trade was increasing across the sea and the countries and provinces that lay here.

In this connection, a good port was needed for goods to and from several parts of western Corsica, and archaeological finds are believed to confirm a Roman presence at Ajaccio at this time.

Growth and recession
In the following centuries, Ajaccio grew so much that it is mentioned as the diocese of Pope Gregory I in the year 591. The size of the city at this time is unknown, but with its religious status it has been the capital of the area. The settlement itself was then around the present Castel Vecchio and Sainte-Lucie.

From the 7th century, many Corsican settlements along the coast were destroyed. There was no breeding ground for development, and activity in the surrounding countries naturally infected Corsica. However, well into the later Genovesian period, some of the early Ajaccio buildings were still preserved.

Genoa's Lordship and New Town
The Republic of Genoa emerged as an independent city-state concentrated on a large fleet and trade on the Mediterranean. The influence of the city and the state grew throughout the Middle Ages, and with it also the spread of the territory of Genoa.

The Genovese conquered Corsica, and in the late 1400s they were looking for a suitable place for the establishment of a fortress and its associated city. With it, they wanted to emphasize their dominance on the island and in this part of the Mediterranean. The result was a new establishment of Ajaccio at its present location.

The work began on April 21, 1492. At Capo de Bolo, architect Cristoforo Gandini built a residence, around which he built housing for several hundred inhabitants. These were initially colonists from Genoa, with Corsicans unable to settle here for the first time. They lived with time in the area north of the real Ajaccio.

While Bastia was the capital of Corsica, Ajaccio grew rapidly and became the capital of the region around the city and much of southern Corsica. The inhabitants of Ajaccio, among others, were administrators of this part of the island, and they were also citizens of the Republic of Genoa, unlike the native Corsicans.

The beginning of French Corsica
In 1553 Ajaccio was conquered by France, and the city was French until 1559, when the peace in Cateau-Cambrésis between France's King Henry II and King Philip II of Spain. Peace returned Corsica to the Republic of Genoa.

Thereafter, all of Corsica, and thereby Ajaccio remained Genovesian until 1755, when Pasquale Paoli proclaimed Corsica as an independent republic. It succeeded in establishing a state consisting of virtually the entire island, but Genoa nevertheless maintained military positions of strength, such as the citadel of Ajaccio.

The Republic of Corsica created both a constitution, a Corsican administration and a military. Paoli and the Corsican sought to build the new nation, but formally Genoa could sell the right over Corsica to France in 1768 as a mortgage. It happened in the context of the Versailles Treaty of this year.

The following years there were strong fighting between French and Corsican troops, and after sending large forces to the island, over the years France overcame the locals, thereby ending the island's independence.

Napoleonic period
The Buonaparte family lived in Ajaccio's Genovese district these years. The family was of Italian origin like many others on the island who had just become French. On August 15, 1769, a boy came into the world in their house, named Napoleone di Buonaparte, who eventually became Napoleon Bonaparte, who later became the emperor of France and for some years the dominant figure in European great politics.

General Charles Louis de Marbeuf organized significant parts of the French administration following Pasquale Paoli's final defeat, which included the involvement of Corsicans in the French system. Marbeuf thus offered a place at the military academy in Brienne to the Buonaparte family, who was to be sent a son of less than 10 years for this education. It was Napoleon who went to the academy in Brienne in the years 1779-1784.

After 1784 Napoleon advanced to various positions in the French army, and with the revolution in the country in 1789 he returned to Corsica, where Pasquale Paoli arrived the following year after 21 years of exile from the island. Napoleon and Paoli met, and Napoleon, like Paoli, was also a Corsican nationalist. However, there was a break between them as Paoli, among other things, replaced the revolutionary ideas with more conservative ideas. Napoleon was later convicted of Paoli in absentia in Paris, and he was sent to Ajaccio to take the citadel, which had been in the hands of the royalists since the revolution; and they were supported by Paoli.

Napoleon won the showdown with Paoli; even though the family's house was burned by Paulists with a relocation to the French mainland as a result. Napoleon also wrote history when, as a general and emperor, he strengthened France's position in Europe; however, to finally suffer defeat after a few years. For Ajaccio, the Napoleonic era had the consequence that the emperor's birthplace was named the island's capital and thereby the administrative center.

19th Century Construction and Tourism
Ajaccio and Corsica had already been in the spotlight in English during the 17th century, and for a time there were even British troops and a British-Corsican government.

The English returned to Corsica in the 19th century, but this time it was as tourists, as Ajaccio, among others, developed as a global holiday destination in line with, for example, Cannes and Nice on the French south coast.

New neighborhoods sprang up in the city, spreading rapidly from the historic Genovese center. To the west, large mansions, fine residences, hotels, and even an Anglican church were erected for the considerable number of Britons who lived and visited Ajaccio.

Towards the end of the 19th century, Corsica's infrastructure was also greatly expanded. Ajaccio's port grew continuously in pace with both traffic and contemporary size of ships, and in 1888 the railway was opened from the city. It was a long track that connected Ajaccio with Bastia and other cities in northern Corsica.

1900s to the present
Ajaccio continued to expand from the beginning of the 20th century, and over the years Napoleon put more and more mark on the city in the form of statues, monuments and other things reminding tourists and residents of the Corsican city's most famous urban children through the ages.

During World War II, Corsica first belonged to the German-controlled Vichy France, and thus the island was not directly occupied by Germany. Italian wishes to bring Corsica back to Italy were in a way fulfilled by a German-Italian agreement that Italy occupied Corsica, which happened during the period November 1942-September 1943.

With the fall of Mussolini and Italy in 1943, Germany had to take over, and 12,000 German troops were sent to the island as replacements for the far more numerous Italians who had been stationed here.

On September 9, 1943, Ajaccio fought for a kind of early liberation as the first French city during World War II. The liberation of the island itself followed on October 4, the same year that General Charles de Gaulle came to Ajaccio.

In the decades since the end of World War II, Ajaccio has experienced strong urbanization and economic growth, bringing the population to around 90,000 in Ajaccio's urban area. The city is the regional capital and together with Bastia it is the economic and political center of Corsica.

Tourism continues to influence Ajaccios and its development. Hotels, restaurants, shopping malls and many tourist activities attract many travelers based on nature, climate, Napoleon and the city's lovely atmosphere; eg from cruise ships during the summer season.
Skjul indhold her
Find cheap flights and hotels