The city of Boston and the state of Massachusetts are located in so-called New England, and it is not simply because it is located in the northeastern corner of the United States close to Europe. You feel British culture here more than anywhere else in the United States, but of course the many benefits of American culture are also part of daily life and the cityscape here.
Boston's many quaint streets and neighborhoods also hold much of the American independence history in the years of struggle with England. It was in the northeastern United States that the cradle of the present United States was, and this is where the rebellion against the colonial power of England took place.
Boston is today a very cozy city with nice open spaces and a fine cultural atmosphere. The city is home to Harvard University, among others, and that is where former US President John F. Kennedy graduated. Museums, fine churches and stately houses are here as well, so Boston takes visitors through several highlights of U.S. history.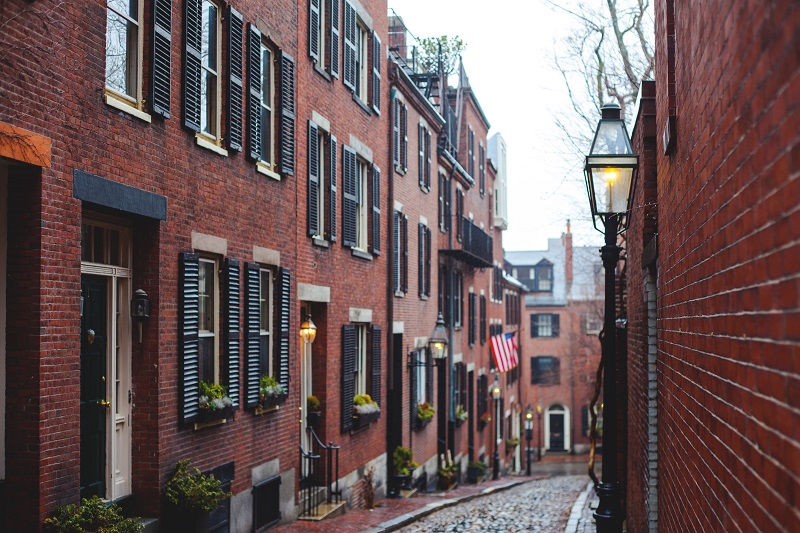 Beacon Hill: Beacon Hill is Boston's upscale neighborhood, which was developed in the period 1790-1870. Here you can enjoy walks in cobbled streets with traditional townhouses, and a walk in the cozy neighborhood should go to the elegant Louisburg Square.

Opera House:

In 1928, Thomas Lamb built the current Opera House under the name Benjamin Franklin Keith Memorial Theater, named after the man who influenced th creation of the vaudeville. At the opening, the opera house was one of the fine cinema theaters of the 1920s, which often had the most beautiful halls of the time.

King's Chapel:

The first church building on the site where King's Chapel is today was built in 1689 as a small wooden meeting room.

When the building was torn down in the mid-1700s, a piece of adjoining land was bought and the current granite church was built.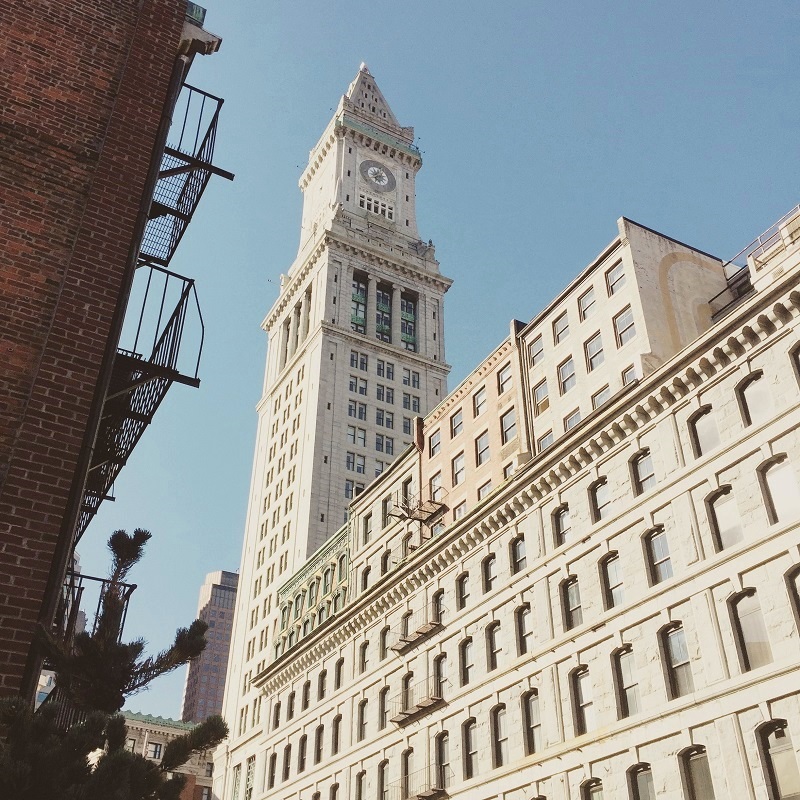 Custom House Tower: The Custom House Tower is one of Boston's most famous high-rises from the early 1900s. The tall tower was completed in 1915 with a height of 151 meters/495 feet, and it was almost built on the roof of Boston's old and low customs house from 1849. Today there is a hotel here and the view from the top is excellent.

Paul Revere House:

Paul Revere House stands in the midst of newer buildings. It was built around 1680 by a wealthy merchant. Today It is the oldest building in central Boston, and the house was the residence of Paul Revere, one of the  important figures in the American Revolutionary War

.

Old North Church:

Old North Church is also called Christ Church in the City of Boston, and the church was built in 1723 in Georgian style.

The tower, with its 58 meters/190 feet, is the tallest church tower in Boston.
[expand title="Read about city history" id="historie2" swaptitle="Hide content"]
The earliest remains of housing in the Boston area date back 7,500 years. Around the year 1,000, the first Europeans came to North America and possibly the coasts of present-day Boston, when Leif Erikson came to Vinland, which the Scandinavian Vikings called the new place. However, the Vikings' settlement was not of permanent duration.

In 1497, a British expedition led by John Cabot reached the coasts of the area, and in the following centuries the fishing waters became popular with fishermen and explorers from several of Europe's great powers.

English pilgrims arrived in Cape Cod in 1620 with the ship Mayflower. They had previously agreed to govern their new colony with respect for democracy and equality between people. The colony was called Plymouth after the pilgrims' hometown, and after a peace deal between Governor John Carver and the Indian chief Massasoit, the first Thanksgiving was celebrated in 1621.

A few years later, King Charles I gave a tract of land to a group of Puritans who sailed to Massachusetts and settled at the mouth of the Charles River, where in 1630 they founded the town of Trimountain, quickly named Boston after the town in England, where many were taken from to the new country.

In the new city, the first school was founded in 1635, and the following year Harvard University was established. In the following years, the city developed steadily and quietly. There were ongoing disputes between various faith groups, and in 1692 a number of hangings came after a witch hunt.

Boston developed into the most important city in the 13 British colonies on the East Coast, and a British taxation of the colony was introduced from the British, causing great local resistance. Samuel Adams was the main force behind the opposition to the Stamp Act of 1765, which introduced, among other things, import duties. British soldiers were sent to Boston to protect the authorities, and in 1770 came the firing of killing shots against five local citizens at the so-called Boston Massacre.

The massacre was the start of the process of independence and independence from Britain. 1773 was the year for Boston Tea Company, where citizens boarded three British ships and threw their cargo of tea in the harbor in protest of the taxation. In 1775, the Battle of Bunker Hill took place. The British forces won the battle with heavy losses, and it instilled optimism in the American separatists. A few months before, Paul Revere had made his famous ride from Boston to Lexington to warn Samuel Adams and John Hancock of British plans to arrest the two leaders of the detachment movement. 

In 1776, the United States Declaration of Independence was proclaimed from Boston, marking the end of the British era as colonial power in the United States.

In the new United States, Boston quickly became known as the nation's intellectual capital, and the city also became a very wealthy port city, with a significant portion of the country's shipping taking place. The city grew steadily, and new neighborhoods such as Back Bay and the South End were constructed. Industrialization also clearly marked Boston, which in the mid-1800s was one of the US centers for the production of machinery, leather and clothing.

Throughout the first half of the nineteenth century, one experienced how Puritanism slipped into the background, and Boston became one of the country's Catholic strongholds. This was done by immigration of mainly Irish and Italians. The Irish in particular came to dominate political life in the future; best known by the election of John F. Kennedy to the President of the United States.

In 1831, Boston's William Garrison published the first issue of the magazine The Liberator, advocating unconditional cessation of American slavery. Speaking in the Faneuil Hall building inspired others all over the United States, and Boston in many ways became the voice of African Americans. Thus, during the American Civil War, Boston and Massachusetts were the first place to send soldiers to the front at Abraham Lincoln's request.

After the Civil War, Boston flourished due to a well-developed industry that processed cotton, among other things. The time was good for the city until 1872, when a major fire destroyed more than 700 significant buildings. A rebuilding effort was underway and Boston regained its former momentum within a few years. Many cultural institutions were founded, and the first US subway opened in 1897.

In 1905, John F. Fitzgerald became mayor, he was John F. Kennedy's grandfather. In 1912, the popular Fenway Park, home of the Boston Red Sox, opened before 1918 winning the national championship four times. The decade was not only positive, however, because in 1919 a major police strike broke out in the city with a wave of crime as a result. Police officers wanted improved pay and working conditions, and this has marked itself as one of the significant events in American trade union history.

In 1960, John F. Kennedy of Boston was elected as the youngest of the United States to date and also the first Catholic president in the country. Kennedy was killed by an attack in Dallas in 1963, and Boston's well-known citizen has ever fascinated an entire world.

In recent decades, high-tech companies, educational establishments, research and the pharmaceutical industry have invested heavily. It has modernized the city and revitalized the city's active, cultural life.
Skjul indhold her[/expand]
Find cheap flights and hotels