The city of Gaborone is Botswana's capital, and the distinctive parliament building stands central to the city's main axis  as part of the large government headquarters. There is a beautiful park in front of the parliament and just in the middle of the city you will enjoy the positively relaxed atmosphere that characterizes the capital. The park is a great place to enjoy a stroll or as a starting point for a walk through the Government Quarter or the Main Mall.
The National Museum and Gaborone's cathedrals are some of the sights where you can see and experience part of the culture that prevails in Botswana. Thus, the museum has a wide collection of everything from art to a Rhodesia Railways carriage. It is a great place to explore the country's culture and history.
There are also markets in Gaborone. They are located on the main shopping street Main Mall, which link the parliament in the west and Gaborone's town hall in the east. At the Main Mall you can find various art, which is also the case in the small artist colony Thapong Culture Center. Several major market areas and shops can be visited at the city's railway station area and in some other neighborhoods.
There is great opportunity to take a closer look at the country's wildlife and the nature around Gaborone, which west of the city quickly becomes the Kalahari desert. The desert divides Botswana and Namibia. The Gaborone Dam is just a short drive south of the city and drive a bit further to get into South Africa.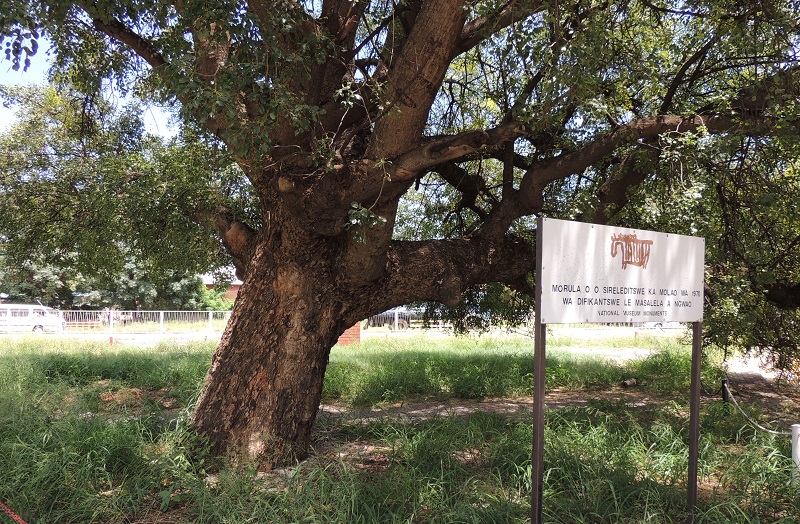 The Marula

Tree National Monument

: This over 100 year old marula tree was protected as a national monument in 2001 as the Botswana Democratic Party held its first public meeting under the tree in 1962.

Thapong Visual Arts Center

: Thapong Visual Arts Center is a center for arts and crafts.

The purpose of the center is to support art development and artists from a local perspective.

Among the active artists here are painters, carpenters, potters and weavers.
Government Enclave

: Government Enclave is a centrally located area in Gaborone, it is where the political and administrative functions of Botswana are located.

This includes the National Assembly, several ministerial buildings and the country's presidential office.

The Old Prison

: Shortly after the establishment of the Bechuanaland Protectorate in 1885, a prison was established.

The prison was used until the 1970s, when a new and modern prison was built as a replacement.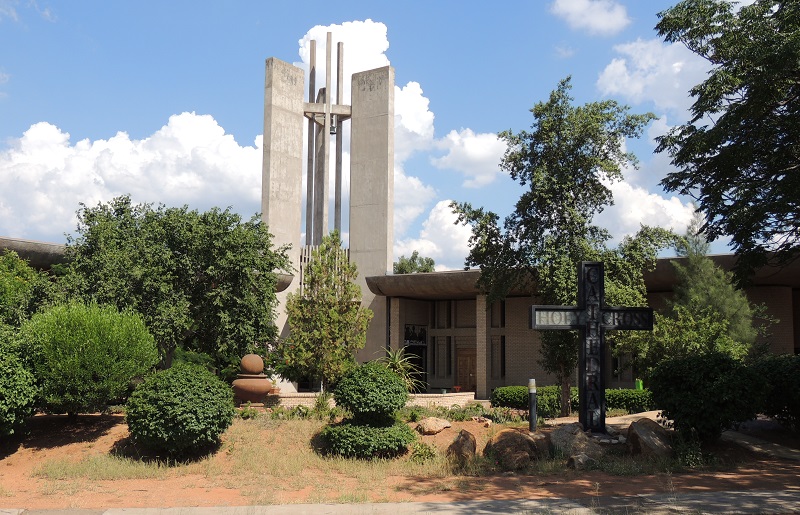 Cathedral of the Holy Cross

: Cathedral of the Holy Cross is the Anglican cathedral in Gaborone.

It is an elegant modern church building both exterior and interior.

Botanical Garden

: The Gaborone

Botanical Garden

is an area where you can see and experience part of Botswana's flora.

The garden opened in 2007.
[expand title="Read about city history" id="historie2" swaptitle="Hide content"]
Pre-European History
Living in the Notwane River area has been around since the Stone Age. Over time, there were various tribes that characterized the culture and development of present-day Botswana.

More recently, the so-called mfecane period took place in the early 1800s. It was a time when the batswana ethnic group became dominant.

The arrival of the
Boers In the 1830s, the Boers started their great migration from the Cape Colony in the southwest to the northeast in today's South Africa and Botswana, among others. The migration progressed while there were internal tribal settlements in the region, with several going to, for example, present-day Zambia and Zimbabwe.

The mid-19th century was also the time when European missionaries came to Africa to a large extent. In this connection, David Livingstone established a church and school in 1845 at the Kolobeng Mission; near Gaborone, which was not yet a city at that time.

Gaborone occurs
In the 1880s, the Gaborone of the Batloko tribe left the South African province of Magaliesberg, heading for the area that later became southeastern Botswana. Here he founded the settlement Moshaweng, which European settlers called Gaborone Village or later simply Gaberones.

One of the early plants in the city was the fort of the mining magnate Cecil Rhodes, which served as a colony administration. The fort's location later became the place where the real Gaborone grew.

Botswana and the Three Chiefs
In 1871 gold was found in South Africa, which later became of great importance to Cecil Rhodes's interests in the South African colonies.

The British Protectorate of Bechuanaland was established in 1885, and it achieved a high degree of self-government through local chiefs. In 1889, Cecil Rhodes formed the British South Africa Company with royal permission, and this company became the British colonial government in the region.

Through the British South Africa Company, Cecil Rhodes wanted control of all the colonies of southern Africa, and this led three chiefs to travel to London in 1895. Here they were represented by Queen Victoria, who approved their wish not to include Botswana in British South Africa Company or other British colonies such as South Rhodesia.

The 1900s
The time from the Chiefs' visit in the late 1800s to the independence of Botswana in 1966 became a period when Gaberones remained a small town with no character of the capital it was soon to become. Botswana as a whole also remained in a limited development such as the Protectorate of Bechuanaland, where, for example, the raw materials that helped to improve the economy significantly after the country's independence were not yet found. In 1964, Gaborone had less than 4,000 inhabitants. It was one like a larger village that in a few decades would grow to more than 200,000 inhabitants.

The new capital
In 1965, the Protectorate of Bechuanaland's capital was moved from Mafeking to Gaberones, and when the country gained independence the following year, the election also fell on Gaberones as its capital, with the first wish Lobatse proved too limited in terms of development opportunities.

Gaberones was chosen because it had sufficient water resources, it was close to connections to Pretoria, it was centrally located in relation to the tribes' settlements in the country, and then finally it was already colonial capital.

On September 30, 1966, the independence of Botswana was a reality, and in the new capital Derek Jones became the first mayor.

Gaborone today
The new capital of Botswana is listed as a planned city. The plant started in 1964, and the city plan laid out large areas for walking areas and squares to create an airy city with urban spaces for citizens. After three years of construction, the basics of the city were completed and the capital was gradually taken into use. In 1969, Gaberone's name changed to Gaborone.

Since then, developments have continued at a rapid pace, with urbanization and increased trade and other business having created the basis for many new buildings and general growth in Gaborone. The city today stands modern, but at the same time as the quietness that was planned for the new city in the 1960s.
Skjul indhold her[/expand]
Find cheap flights and hotels