During a visit to Hanoi, you will experience a distinguished mix of historical sights like pagodas and modern Vietnam from the colonial era to present day. The colonial years have made a special architectural mark on the city with the European ambience, French style and cultural influence, which is still visible. 
Soak in the French colonial era on a tour to the opera or by a visit to the city's cathedral, which is perhaps the most visible symbol of France's historical influence. On a walk you will also see Vietnam's traditional Asian culture and traditions as well as modern Vietnam's impressive buildings and fine museums.
Whatever you choose to do in Hanoi, everywhere in the city you will find the Asian charm that prevails in the major cities of the continent. Here, the scenery is special with the colonial style buildings mixed with centuries-old temples, churches and pagodas.
You can also make a great day trip out of town. There are some fine pagodas and the interesting city of Dinh Bang. Many visitor choose to include Halong Bay in a Vietnam trip, since it is one of Vietnam's most beautiful landscapes with all the limestone islands scattered in the great bay.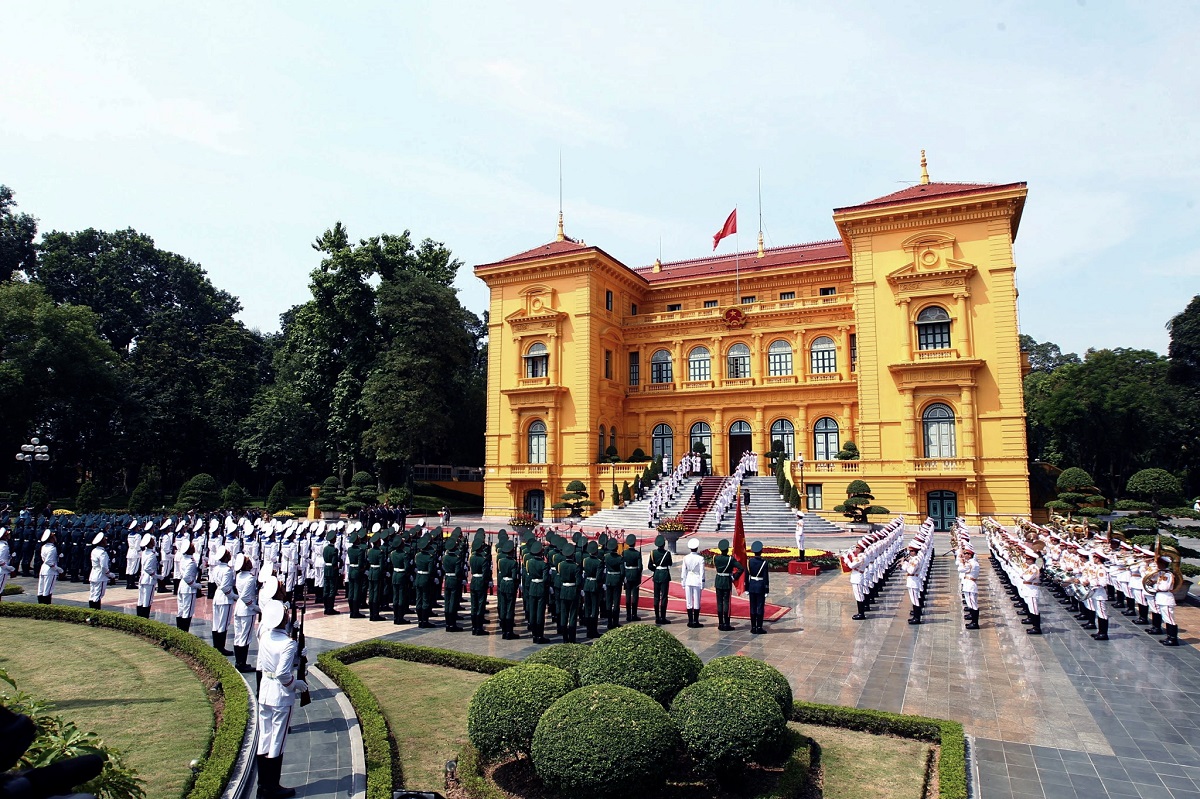 Presidential Palace/Phủ Chủ tịch

:

Vietnam's beautiful presidential palace was built in 1900-1908 as the residence of the French Governor General

.

After the country's independence, Ho Chi Minh did not want to live in the palace symbolizing the French colonial power.

Quan Thanh Temple/Đền Quán Thánh:

The

Quan Thanh Temple was built in the 11th century, however, later extensions until 1677 have formed its present appearance, which is highly worth seeing.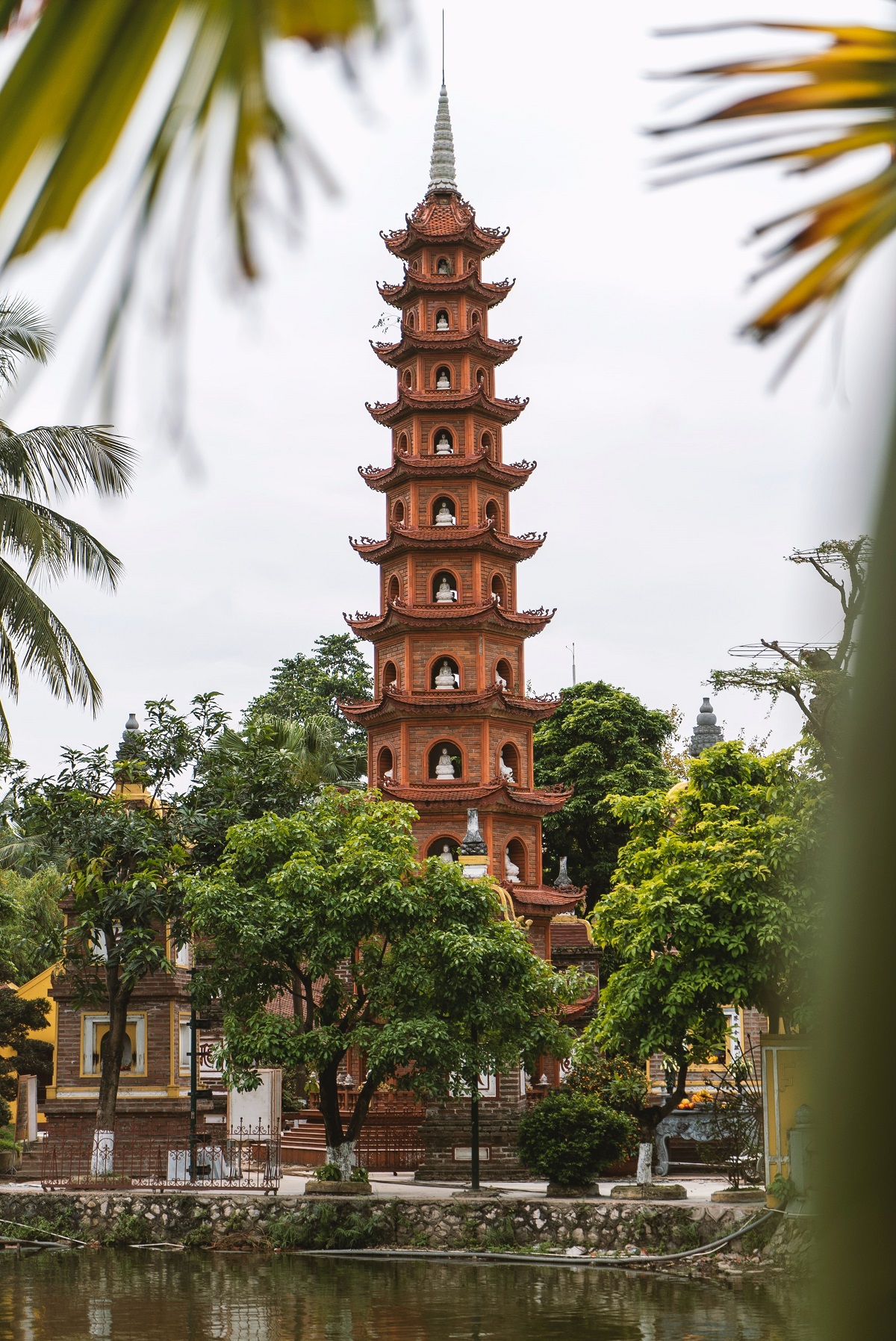 Tran Quoc Pagoda/Chùa Trấn Quốc:

With roots back to the 500s, the Tran Quoc Pagoda is one of Vietnam's oldest.

However, it has only been in its present place since 1615, when it was moved from its original site by the Red River.

Ho Chi Minh Museum/Bảo tàng Hồ Chí Minh:

This museum portrays the life of Ho Chi Minh in a fine way, and thus, naturally, a large part of Vietnam's recent history.
[expand title="Read about city history" id="historie2" swaptitle="Hide content"]
Since ancient times, settlements have taken place on the lush plain of the river delta where Hanoi is today. Over time, there have been various state formation in the Vietnamese area, including the kingdom of Funan, founded shortly after year 0 of the Mekong Delta in part of present-day Vietnam.

In the year 1010, the Ly Dynasty was established by King Ly Thai Po, who came from the nearby town of Dinh Bang. In doing so, he founded Thang Long, today's Hanoi, which he made to the kingdom's capital. Thang Long means: "The Ascending Dragon", and according to the legend, Ly Thai Po chose the place after just seeing the dragon. 

It was the first time a Vietnamese dynasty was independent of Chinese influence, and Thang Long evolved rapidly. Over time, a number of institutions were established in Hanoi. The one-pillar pagoda that King Ly Thai Tong built in 1049 and the country's first university, the Literature Temple, founded in 1070.

Over the next several centuries, the city developed peacefully, except for a few periods of scattered uprisings or attacks. The town plan for Hanoi's Old Town with its many narrow and crooked streets and alleys appeared in the 13th century, and the city grew quietly.

In 1802 it was over with Thang Long's status as capital. Emperor Gia Long, who founded the Nguyen Dynasty, conquered the city and northern Vietnam and united it with the part of the country that today forms central Vietnam. Hue was more central, and Gia Long made it the country's new capital. Thang Long changed its name to Hanoi, referring to the city's location on the river, and it continued as the administrative center of the city's region.

In the mid-1800s, France's colonial interests began to move towards Vietnam, French Indochina. The country was to be the bridgehead for a greater French influence in the area, and from 1848 came regular attacks against the Vietnamese areas.

In 1872, the French conquered Jean Dupuis citadel in Hanoi, and it became the starting point for the French colonization of the area. After several years of scattered fighting, French troops gained control of Hanoi, and northern Vietnam officially became a French protectorate.

In 1887, Hanoi was the administrative center of the Franco-Indochinese Union, and numerous buildings of mansions, theaters, churches and government buildings were started, which, together with the French city plan with avenues, still show the clear French dominance of the area in about 1900 and the following decades.

After Japan's withdrawal from Vietnam in 1945, the Communist Party became the country's most successful anti-colonial movement. The thoughts of an independent Vietnam were manifested on September 2, the same year, when Ho Chi Minh at Hanoi's Ba Dinh Square proclaimed the Democratic Vietnamese Republic.

Ho Chi Minh's proclamation became the starting point for many years of war. Vietnamese waged guerilla war against France's colonial power until 1954, when the French were finally defeated by Dien Bien Phu. The war destroyed many of Hanoi's historic buildings, some of which were rebuilt later in the 20th century.

Immediately following the withdrawal of French troops from Hanoi and northern Vietnam, an international resolution was passed, temporarily dividing Vietnam into the communist north and the US-controlled south. It was planned to unite the country in 1956. Hanoi was now established as the capital of Ho Chi Minh's northern government.

Instead of the planned unification of the country, there were many years of fighting between the Communist North and US troops and US-backed Vietnamese groups. During the time of the major bombings of Hanoi, 1965-1968, most of the city's population was evacuated and large parts of the city destroyed during the bombing of the Americans.

Ho Chi Minh died in 1969, but that did not put an end to the Communist regime's military, which eventually took over. After heavy losses, the United States launched a withdrawal of its forces in 1973. Vietnam was now reunited with Hanoi as its capital and as the Socialist Republic of Vietnam, and in honor of Ho Chi Minh, the mausoleum at Ba Dinh Square was erected.

A great deal of reconstruction work was done and most of the historic buildings were rebuilt after Vietnam's unification and final independence. Foreign investment was opened in the 1980s, and the country began to build its tourism industry, which year after year attracts more and more tourists by virtue of the country's nature, climate, exciting history and great hospitality.
Skjul indhold her[/expand]
Find cheap flights and hotels