Las Vegas is the capital of Nevada og it is world famous for its many sparkling neon signs, impressive shows and fantastic hotel and casino complexes. Here are activities 24 hours a day; whether you go here to gamble, to get married in one of the many Wedding Chapels or just to soak up the pulse and entertainment of the city.
The entertainment at the hotels is centered around the main street of Las Vegas Boulevard, also called The Strip. A lot of mega hotels are located along the street, and part of the visit here in Nevada's largest city is to visit them and their extravagant buffets and special attractions, such as volcanic eruptions, large waterfalls, fountains, pirates and the half-size Eiffel Tower.
Las Vegas has been a fast-growing metropolis over the last few decades, and it also has its museums and sights, not only along the famous Las Vegas Boulevard. Along Fremont Street you can see some of the early casinos in the city, and it is also this neighborhood, that is Las Vegas' old and true downtown.
Las Vegas' surroundings are also unique. You can choose to see man-made engineering works as the Hoover Dam and visit abandoned gold digging towns from a bygone era. You might also choose to explore some of the national parks in the area with the Grand Canyon as one of the most popular destinations.
Luxor: You can see the 106 meter / 348 foot high black Luxor Pyramid as one of the distinctive buildings on The Strip. The pyramid is guarded by an impressive sphinx. The Luxor Hotel and Casino is like a journey back to historic Egypt.
Caesar's Palace: This hotel complex was built as a Roman palace in a modern version, and especially the fantastic Forum Shops shopping arcade is a great experience.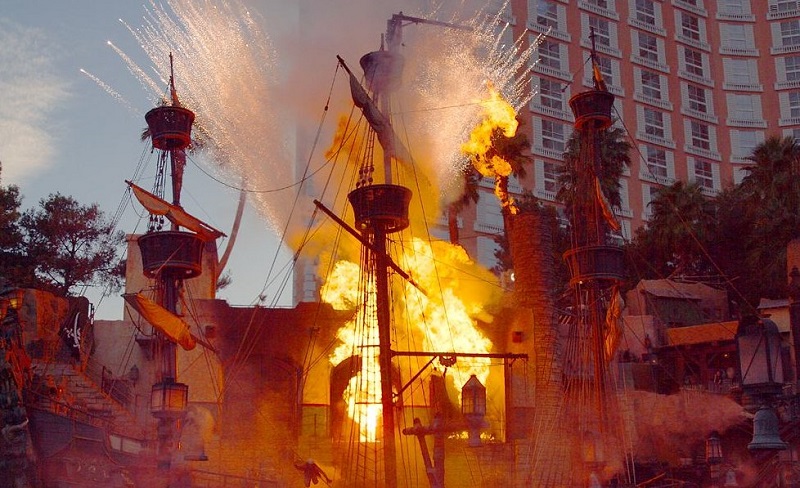 Treasure Island: Treasure Island is a hotel and casino complex known for its action-packed pirate show staged in front of the hotel on Las Vegas Boulevard.
Main Street Station's Berlin Wall: At the Main Street Station casino you can see part of the wall that for decades divided the German capital Berlin into East Berlin and West Berlin.
Mandalay Bay: The large and elegant Mandalay Bay is a hotel and casino complex that also houses a large aquarium, Shark Reef Aquarium, where, among other things. can walk through a beautiful reef in a tunnel.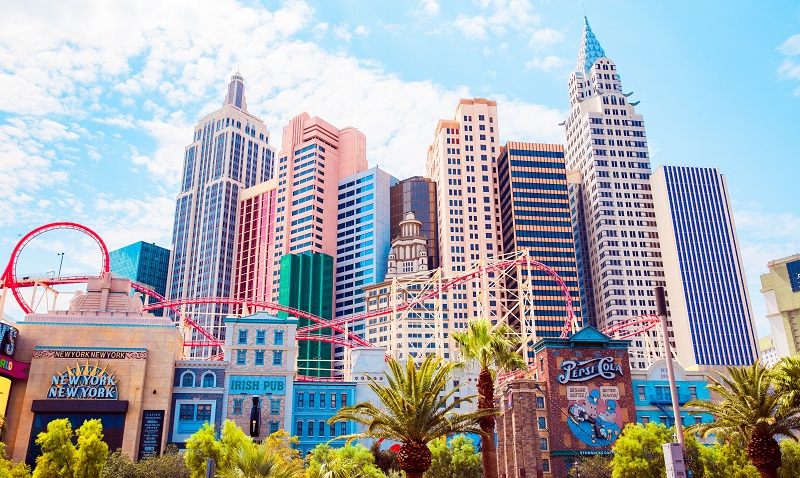 New York New York: In the middle of Las Vegas you suddenly see the Empire State Building, the Chrysler Building and a 46 meter/150 foot high replica of the Statue of Liberty. They are part of the New York New York hotel complex.
Pinball Hall of Fame: The Pinball Hall of Fame is a paradise for anyone who appreciates pinball machines. Here is a collection of several hundred machines; both rare and more well-known. There are also various arcade machines here.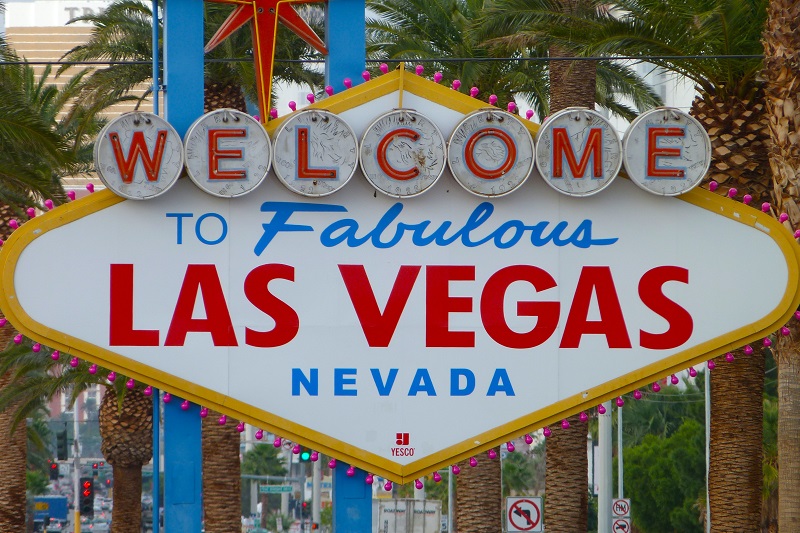 Welcome to Fabulous Las Vegas Sign: This famous sign is one of Las Vegas' landmarks. The neon sign was put up in 1959, and it stands as a sort of entrance to Las Vegas Boulevard a few miles south of downtown.
Heart Attack Grill: Las Vegas is known for many things, and one of them is the city's colossal buffets and other gastronomy. The theme of this place is a hospital where nurses take orders from customers who are patients.
Las Vegas Natural History Museum: The Las Vegas Natural History Museum exhibits science in an exciting way. From prehistoric times, one can see the dinosaur gallery with the 10 meter/32 foot long fearsome Tyrannosaurus Rex.
Read about city historyHide content

The Spanish Beginning




After the Spanish creation of missions in the Los Angeles area, they sought an access route to the area of ​​present-day Las Vegas through what later became the state of Nevada.

The first European was Rafael Rivera, who saw a large grassy valley in front of him.

He named the area Las Vegas meaning the meadows.

In 1844, explorer Militant John Charles Frémont writes about Las Vegas, making the place known to more than the few passing Spaniards and the Native Americans. It resulted 11 years later in the founding of the Mormons of a fort in Las Vegas. Two years after its construction in 1855, the fort was abandoned.

Begyndelsen til en by
Spredt bebyggelse blev opført gennem sidste halvdel af 1800-tallet, hvor Nevada udviklede sig grundet primært de mange muligheder for at drive minedrift. Guld, sølv og mineraler var blevet opdaget, og det medførte en stigende immigration. I denne tid blev der udstykket billig jord til tilflyttere, og det bragte specielt mange landmænd til Las Vegas.

Af stor betydning for byens fortsatte vækst blev anlæggelsen af jernbanelinjen mellem Los Angeles og Salt Lake City umiddelbart efter år 1900. Den kom til at gå gennem Las Vegas, der grundet adgang til vand blev en vigtig station på strækningen.

Beskeden vækst og de første spil
I forbindelse med jernbanen blev der i 1905 udbudt jord i et område, der dannede en egentlig by. Derved blev byen Las Vegas grundlagt. I løbet af de første årtier nåede befolkningen op på få tusinde.

Las Vegas og Nevada var som mange andre steder præget af ulovligt spil, og problemet blev her løst ved at gøre det tilladt og udstede licenser til seks etablissementer i første omgang.

Immigrationslovene og skilsmisselovene blev også lempet betragteligt. Efter kun seks ugers bosættelse kunne en skilsmisse opnås. Det førte til et behov for mange kortvarige ophold i byen, hvilket reelt var første skridt mod den hotel- og underholdningsindustri, man ser i dag.

I 1930 var antallet af borgere nået op på 5.165, og depressionen i 1930erne så ikke ud til at gøre det bedre.

Hoover Dams anlæg
I 1931 startede opførelsen af den kolossale Hoover Dam tæt på Las Vegas. Det store anlægsarbejde gav grobund for en opblomstring i byen, og også indbyggertallet steg langsomt, men sikkert.

I 1940 var der godt 8.000 mennesker i Las Vegas, og herfra er tallet steget dramatisk. Efter en stor udbygning og en samtidig udvidelse af Las Vegas' gamle byzone steg tallet til 48.000 i 1950.

Fra en spæd begyndelse i 1940erne skød det ene hotel op efter det andet gennem de næste årtier. Der var vækst og fremgang i USA, og det kunne mærkes på underholdningsindustrien, der prægede Las Vegas.

Hotellerne var centreret omkring nemt tilgængelige oplevelser i deres store kasinoer. Desuden tilbød de største daglige show, hvor blandt andet en stjerne som Elvis Presley optrådte i 1969.

Den boomende by
I 1970 boede der 270.000 mennesker i Las Vegas, og blot ti år senere var dette tal vokset til 467.000. Det skulle dog ikke slutte der, for i 1980erne blev der satset på en markant udvidelse af tallet.

I perioden 1985-1995 lå den årlige vækst på syv procent, og der blev igen iværksat et byggeboom, der ikke tidligere var set. Store hoteller på stribe og aktiviteter som byens monorail kom til. Las Vegas voksede sig i perioden til en millionby, og hoteller med kasinoer skød op som paddehatte.

Dagens Las Vegas
Nevadas gunstige position med nærmest monopol på spil blev brudt, idet indianere får tilladelse til at drive kasinoer i deres reservater. Det ville kunne fjerne en del af Las Vegas' turiststrøm fra byen og dermed en stor indtægtskilde og et stort antal arbejdspladser.

Svaret på udfordringen blev en ændring af Las Vegas fra en position som centrum for kasinoturisme til en oplevelsesturisme.

Store hotelkomplekser af enestående karakter i verden blev opført over temaer som Paris, Venedig og det historiske Egypten. Der blev bygget Eiffeltårn, sfinkser og romerske haller samt en række aktiviteter for både børn og voksne. Man kunne nu tage til Las Vegas for meget andet end blot at spille, og turisterne kom til i et antal som aldrig tidligere set.

The constant and colossal tourist flow also brought with it an ordinary urban development. Art museums, universities, and large corporations are also located in Las Vegas, which for years has been the United States' fastest-growing metropolis. There are now up to two million people in the Las Vegas area, who in less than 100 years have become the absolute center of Nevada and much more than the green meadows Rafael Rivera passed on his way to Los Angeles in the 1800s.

Today, the city is a modern millionaire, world-renowned for its 24-hour tourist attractions along the main strip The Strip with all the sparkling neon signs and large hotel complexes.

This is where it began, and it remains an experience that does not find its way in the world. Las Vegas creates dreams and provides entertainment in true American manners.
Skjul indhold her
Find cheap flights and hotels