New Orleans is located in Louisiana in southern states of the United States, and they have a special charm. The atmosphere in the old center, also known as the French Quarter, is unique to the country with live jazz music in the streets, cast-iron balconies, horse-drawn carriages and old southern state charm, seasoned annually with Mardi Gras celebrations as one of the city's many highlights.
The city of New Orleans was founded with the name Nouvelle Orleans, the capital of the French area of ​​Louisiana. You can still see the French street names on signs in the French Quarter, and the language is still a bit different from the rest of the states. The restaurants offer dishes other than in the rest of the United States as well, since this is the home of the tasty Creole cuisine.
The Mississippi River runs along the French Quarter and the rest of central New Orleans. You can board a steamboat for a cruise to the historic plantations of New Orleans' hinterland and dream of 19th-century urban and rural life while enjoying the mix of American and French-Creole culture.
There are a lot of choice if you want to get out of town to enjoy the vicinity of New Orleans. The swamps around Houma are home to countless alligators and other animals, and this can be experienced on boat trips through the lush area. Cities like Natchez and Baton Rouge are also interesting excursion destinations.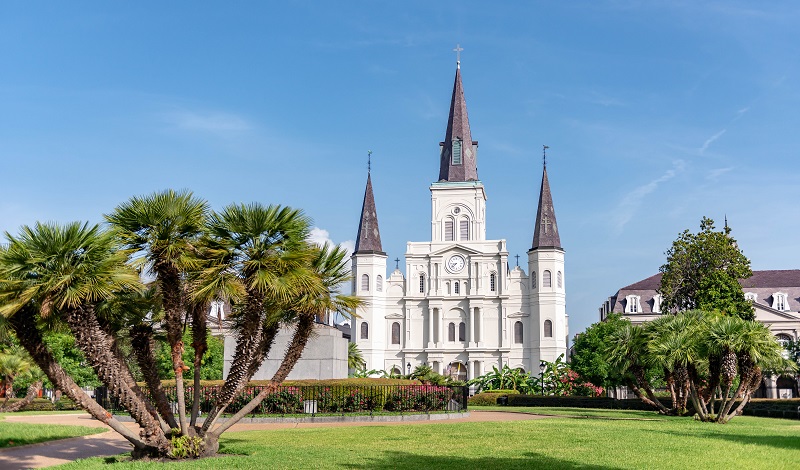 St. Louis Cathedral:

The present St.

Louis Cathedral was built in 1849 as the third church at this location.

The first two were destroyed by

a hurricane and a fire.

The cathedral is the oldest Roman Catholic church in the United States.

Jackson Square:

Jackson Square is the center of New Orlenas' Old Town, the French Quarter.

It was named Place d'Armes until 1851, after which it was named after US President Andrew Jackson.

Jackson Brewery:

In 1891, German Dietrich Einsiedel built the largest brewery in the southern United States, Jackson Brewery.

Beer is no longer brewed in the monumental building, but it is now set up as an interesting shopping mall.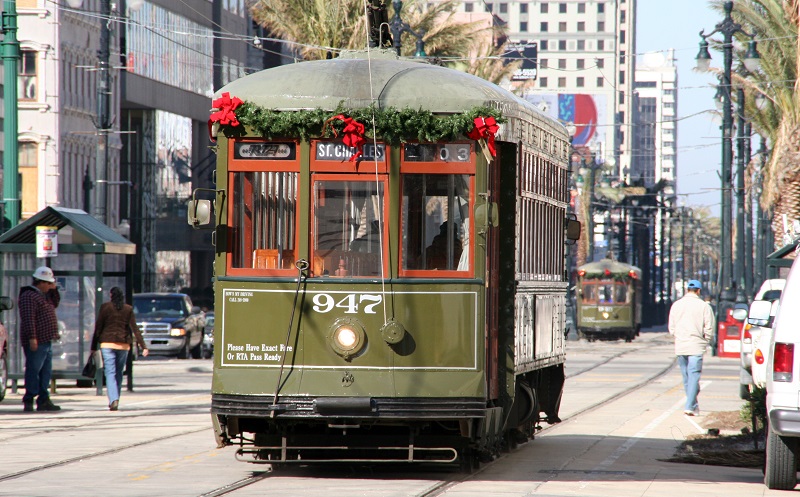 St.

Charles Streetcar:

New Orleans' historic trams, the so-called St.

Charles Streetcars is an experience, where you can take a trip to the historic Garden District from Downtown.

Canal Street Ferry:

You can cross the Mississippi river on the Canal Street Ferries, and from here there is a breathtaking view of New Orleans' modern skyline with its many skyscrapers.
Read about city historyHide content

The New Orleans area had long been populated by Native Americans before Europeans arrived here in 1518. The village of the Indians was called Tchoutchouma and was close to present-day New Orleans.

Europeans were led by Spanish explorer Alonso Alvarez de Piñeda, and the company sailed up the Mississippi River, which they called the Espiritu Santo, the Holy Spirit River.

However, it took many years before an actual colonization took off.

In 1682 Robert Cavalier came to the territories at the mouth of the Mississippi River, and he occupied the territory of France. It was named Louisiane after the French sun king, Louis XIV. In the 1690s, several clashes occurred between the newly arrived Frenchmen and local Native American tribes.

In 1699, the first real city, Biloxi, was founded, which after a few years became the capital rather than the bridgehead in Mobile. That same year, France turned Louisiane into a crown colony.

The following year, peace talks between France and the Indians broke down, resulting in eight years of fighting. In 1708, the Native American resistance was defeated, and there was some calm and stability. 

The French founded the Nouvelle Orléans in 1718 as the new primary city in the new colony. The site was chosen because it was one of the few high-lying areas along the Mississippi before its expiration in the Gulf of Mexico. Furthermore, the site was favorable for further transport across the large lake, Lake Pontchartrain. After a few years, as early as 1722, Nouvelle Orléans formally became the capital of Louisiana instead of Biloxi along the coast to the east.

The French era did not last many decades. The first French merchants had arrived in the early 18th century, and in 1762 Spain won the dominion over the French colony. It happened in the context of the French defeat in the Seven Years' War. By the time the Spaniards took over New Orleans, an urban center had already been established; the current French Quarter.

In 1788 and again in 1795, the city was hit by large and devastating fires, with a total of more than 1,000 buildings being destroyed. The Spaniards rebuilt the French Quarter, and many of the district's distinctive buildings originate here, including St. Louis Cathedral and Cabildo.

In 1801, through the peace treaty in San Ildefonso, Louisiana again became French. Napoleon had thoughts of a new great state with New Orleans as the center. The French era, however, only lasted until 1803, when the United States' purchase of Louisiana from France was completed. By the acquisition, the United States nearly doubled its acreage, with French Louisiana going from the Mississippi to the Rocky Mountains and from the Gulf of Mexico to Canada. The price was $ 15 million and the area was 2,145,000 km 2 large and later became 13 US states.

Throughout the first half of the 19th century, New Orleans developed into the center of the growing number of large plantations that were built north and west of the city. The plantations created a development and prosperity in the city and the area, and many fine buildings were erected during this time. New Orleans was one of the richest cities in the United States during this period. Here, the precursor to the city's current trams was constructed, and it is the oldest, still operating rail system in the world.

New Orleans and Louisiana were part of the American Southern States, thereby joining the American Federation, which faced the Union Army from the north during the American Civil War. In 1862, Union forces occupied the city and remained here until 1865.

From about 1915, New Orleans' jazz music began to spread, first to Chicago and later to the whole world, where the music has helped make the city and Louisiana world famous. Some of the city's best-known jazz musicians started out in various clubs in the Storyville area. These include Louis Armstrong and King Oliver.

In 1956, the bridge over Lake Pontchartain was built, it was the longest in the world and as a new traffic year helped develop New Orleans as the regional center it already was. Just two years later, the Greater New Orleans Bridge over the Mississippi River was inaugurated. 

In the late 1950s, a process of equality between the city's population groups began gradually. The division into buses, since schools and later elsewhere was gradually abolished, and in 1977 the city got its first mayor, whose roots are from Africa and not Europe.

In 1984, a world exhibition on the world's water supply was held. It became an outlet with more than seven million visitors. Other big events are the many football championship finals played in the impressive Louisiana Superdome.

In recent decades, the historic French Quarter has flourished as in its youth. Travelers from all over the world enjoy the atmospheric neighborhood of jazz clubs and many of the numerous eateries with not least the delights of the French-Creole inspired Cajun cuisine. The highlight of the festivities is the traditional Mardi Gras festival.

In 2005, New Orleans was hit by a hurricane that caused major devastation throughout the city, which, for the most part, was also flooded. The city was evacuated and major reconstruction work was initiated in the city and along the coast of the Gulf of Mexico, which was also hit hard.
Skjul indhold her
Find cheap flights and hotels