Osaka is an interesting city to visit with all the sights from traditional temples and the Osaka Castle to modern architecture and vibrant streets. Osaka-Kyoto-Kobe is Japan's second largest metropolitan area after Tokyo-Yokohama, and the city of Osaka is located as the center of the interesting region.
As one of Japan's largest and most modern and thriving cities, Osaka offers an abundance of activities from both history and present-day Japan. Together with the modern high-rise architecture you find beautiful works from the city's rich history, including the Osaka Castle and surrounding park.
The pedestrian street Dotonbori is the center of modern entertainment with covered arcades, huge shopping malls, countless eateries, neon commercials, games and whatever else you can imagine. How about a purrfect visit to a cat cafe?
It you want to it all from above, the Umeda Sky Building and the Tsutenkaku Tower are good choices for panoramic views. Multiple Ferris wheels are also an option; for example, in the Tempozan neighborhood of the harbor, which also gives access to the city's Universal Studios theme park.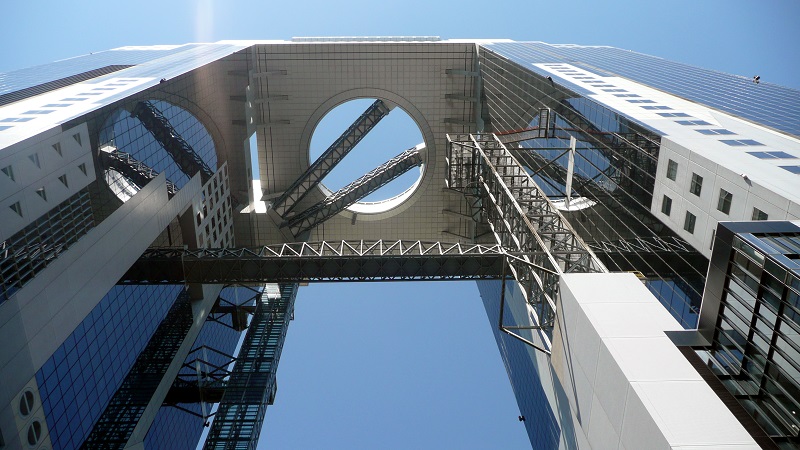 Umeda Sky Building / Umeda Sukai Biru / 梅田 ス カ イ ル:

The impressive Umeda Sky Building consists of two 40-storey skyscrapers, which, at a height of 173 meters/567 feet are joined. They are built together with a circular construction and spectacular escalators.

Osaka Aquarium/Kaiyūkan/海 遊 館:

Osaka Aquarium is one of the largest aquariums in the world, with marine experiences from the Pacific and the many areas surrounding it.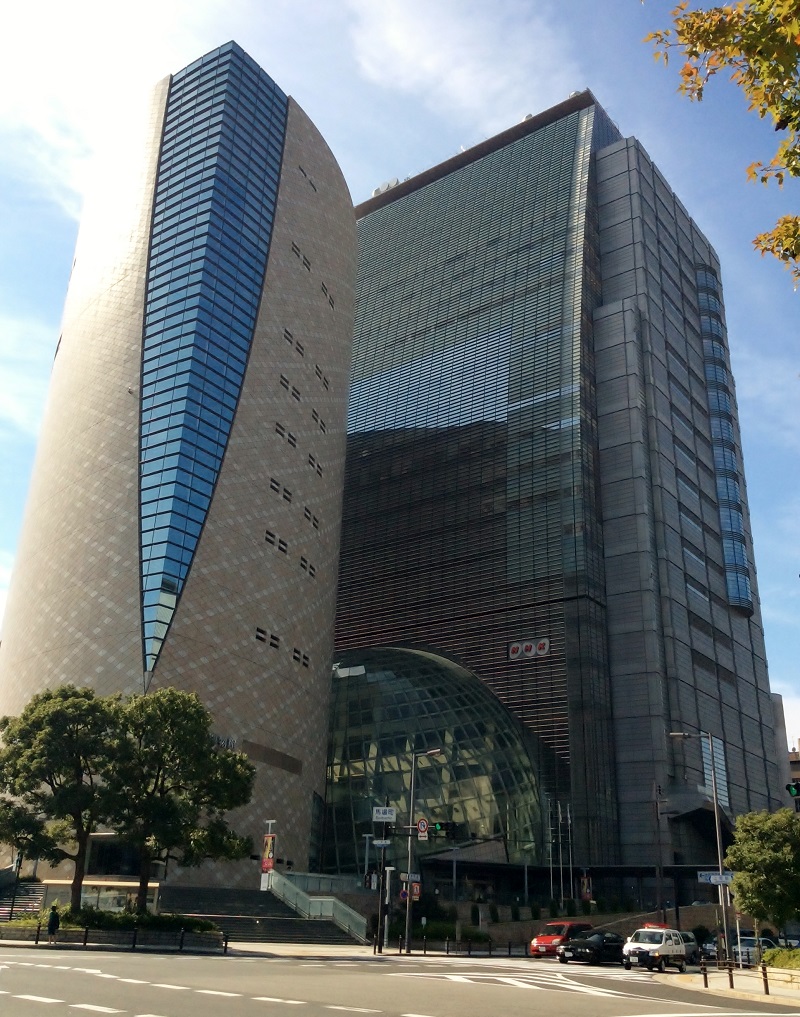 Osaka Museum of History/Osaka Rekishi Hakubutsukan/大阪 歴 史 博物館:

At the

Osaka Historical Museum

, you can get close to the city's development through time.

Through models and fine setups, items, photographs and much more, the tour starts with early Japan, where Osaka was the country's first capital.

Ohatsu Tenjin Shrine/Ohatsu Tenjin Jinja/お 初 天神 神社:

This shrine dates back many centuries and is known as the place where the Edo period's best-known play, "Sonezaki Shinju," took place.
[expand title="Read about city history" id="historie2" swaptitle="Hide content"]
The first settlements
The Osaka area's inhabited history go far back in time, and traces of people dating back some 2,500 years have been found.

Over time, the lush plains were cultivated, and in particular, many permanent settlements with rice cultivation were established here. However, it took a long time for Osaka to grow strong and become one of Japan's most important cities.

Capital of the Kingdom
In 645, Emperor Kōtoku left the palace Naniwa / 浪 速, which served as the residence of the court. As a result, Osaka became the capital for the first time; however, that status lasted only ten years.

Asuka became the new capital in 655, but Naniwa was maintained as an important link between the Emperor's land, the capital Asuka and the trade over the sea to China and Korea.

Naniwa again became the capital in 744 following Emperor Shōmus's decision. This time, however, the joy lasted only to 745, where Heijō-kyō, now called Nara, became the residence of the emperor.

The following many centuries, Osaka continued to be a major trading city, so the economy continued to evolve.

New castle and new leaders
Osaka's rapid development towards becoming one of Japan's largest and most significant power centers began in the 16th century.

By 1496, some Buddhist monks had settled in a sect at the former Naniwa Palace. Their position had become too strong over the years, and in 1570 a siege took ten years before the monks surrendered.

The leader and commander Hideyoshi Toyotomi allowed the temple to be destroyed, and in the area he let the impressive Osaka Castle / 大 坂 坂 erect as a manifestation of his strength. Hideyoshi Toyotomi had managed to gather large parts of Japan into a kingdom, but he had not become the country's absolute leader, the shogun, but the daimyo, who was only subject to the country's shogun.

Businessmen moved to the area outside the castle, and the city quickly became the leading economic center in Japan. However, Hideyoshi Toyotomi and his son Hideyori were not to become shoguns, and Osaka did not become the Japanese residence city.

The Edo era
Tokugawa Ieyasu overcame Hideyoshi Toyotomi in the power play on Japan's top leadership, and in 1603 the Tokugawa shogunate was established. Kyoto became the capital, and later transitioned to Tokyo.

However, the board gave Osaka free hands to continue its growth and commercial success, which greatly contributed to cementing the city through the Edo era of 1603-1867 cementing its position as this part of Japan's absolute leading economic center - a position that remains preserved.

A small setback hit in 1663 with the fire in Osaka Castle, which destroyed the central castle tower until 1931.

However, the economy and trade flourished, and so did the culture. Both the Kabuki theaters and the Bunraku puppet theaters were typical of the city's entertainment.

In 1837, the samurai Ōshio Heihachirō became the front figure in an uprising to secure better conditions for the city's poor. Much of the city was destroyed before the shogunate broke down. Ōshio Heihachirō subsequently committed suicide.

Opening and industrialization in the 19th century
Osaka, in addition to trade, became known for its textile industry. Foreign Trade was opened on January 1, 1868; the same day as nearby Hyōgo, today's Kobe.

In 1889 the municipality of Osaka was established. Initially, its area was 15 km², but it has since grown to more than 200 km² / 77 sq mi.

Industrially, Osaka became Japan's engine room with the development of a lot of heavy industry, and the financial sector also developed rapidly. Osaka was the locomotive in Japan until Tokyo gradually took over.

World War II to Today
The heavily industrialized Osaka was hit hard by bombings during World War II, with US B-29 bombers destroying the city.

The massive devastation of the post-war economic boom in Japan provided opportunities for the many new buildings seen throughout the city today, with Osaka maintaining its historic position as a powerhouse; today only surpassed by Tokyo-Yokohama in both population and economy.

Internationally, Osaka marked itself as the host of the Japanese World Exhibition in 1970. In this connection, the new district to the north with the Shin-Osaka railway station in the center was constructed.

The economic development of the city is reflected in the very modern city and at the same time the city's roots are seen with the beautiful temple buildings and not least Hideyoshi Toyotomi's old castle.
Skjul indhold her[/expand]
Find cheap flights and hotels