The town of Pula is located to the south-west of the peninsula of Istria, and the city and the area are full of exciting history and many sights. Pula itself is famous for being home to one of the best preserved Roman arenas.
The arena in Pula is the big draw for tourists to visit Pula, and it is indeed an impressive work, which is still used as an occational venue in the summer season. However, Pula is also rich with other sights than the arena, and with a cozy city center with walking distance to everything, it is a pleasant place to visit.
The city's archaeological museum is one of the places to look at items and history from the Roman era, and other periods in the history of the city and Istria can be seen at Pula Fort, which overlooks the city center from the central hilltop.
From Pula, it is not far to great nature, cultural sights and bigger cities such as Croatian Rijeka and Italian Trieste, where you will find a lot of sights, shopping etc. There are also a lot of cozy, seaside towns on the Istrian peninsula.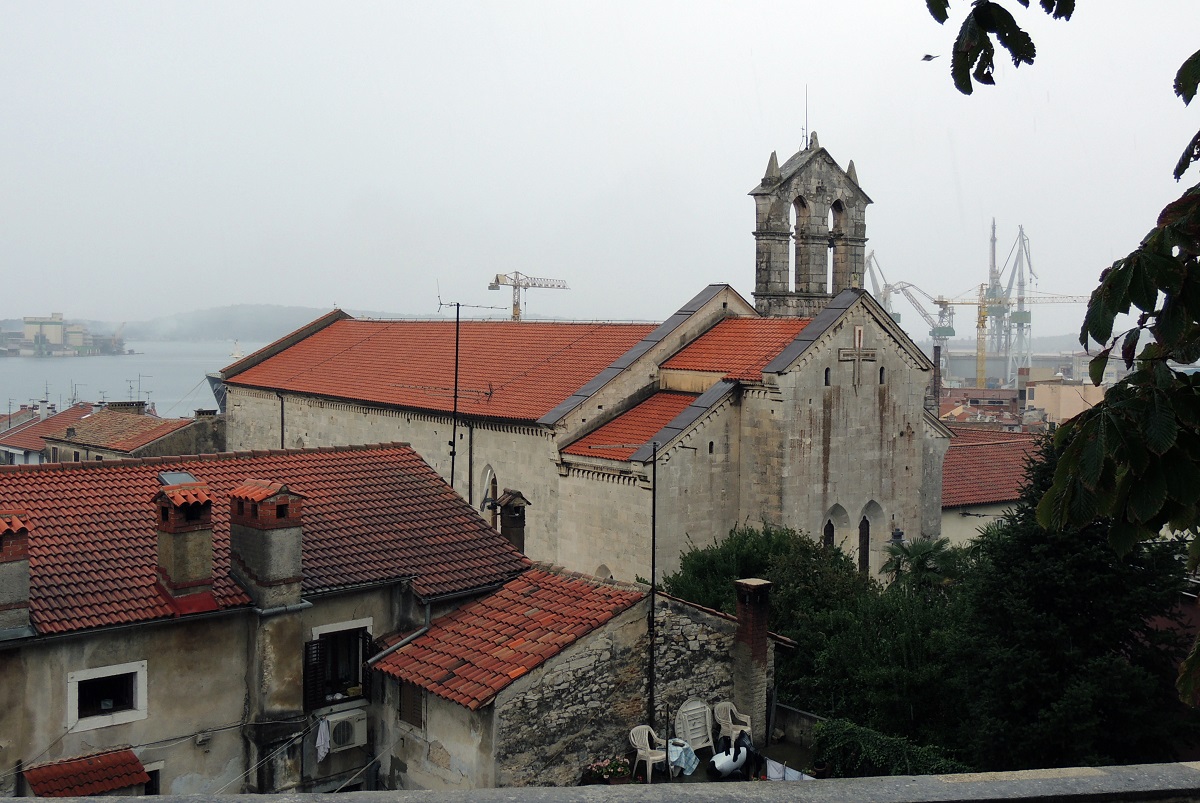 St Francis Church and Monastery/Crkva in samostan Sv Frane

: This Franciscan monastery complex was built in the 14th century. The church dates from 1314 and was built in late Romanesque style with early Gothic ornamentation.

Basilica of St Mary Fromosa/Bazilika sv.

Marije Formoze

: The Basilica of Santa Maria Formosa was built as one of two churches in the 5th century as part of a monastery that was demolished in the 16th century. The church is known for floor and wall mosaics.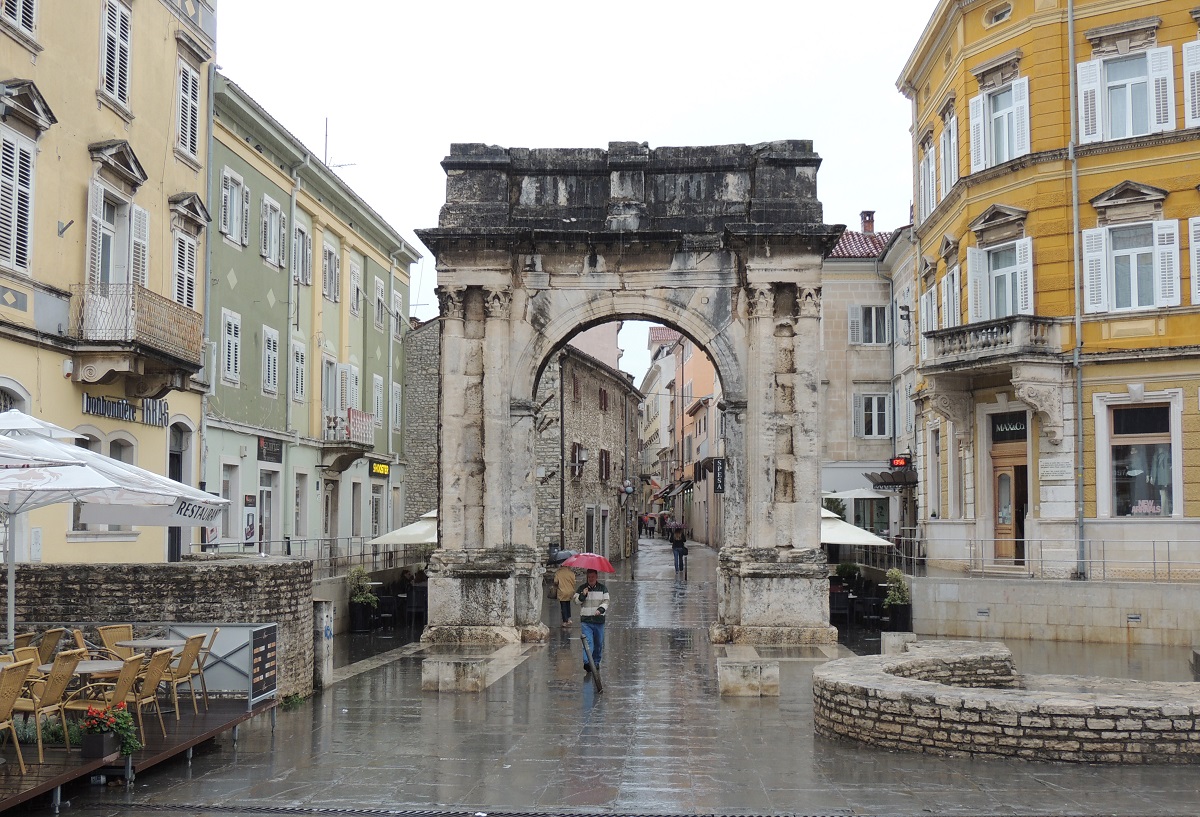 Arch of the Sergii/Slavoluk Sergijevaca

: Arch of the Sergii was built in the years 29-27 BC. It was built by and named after the Sergius family, who at the time held significant public offices in the city.

Istria and Pula Archaeological Museum/Arheološki

Muzej Istre Pula

: This archeological museum depicts the period from prehistoric times to the Middle Ages, and it covers the entire peninsula of Istria. You can see finds from Pula's Temple of Augustus and other interesting things.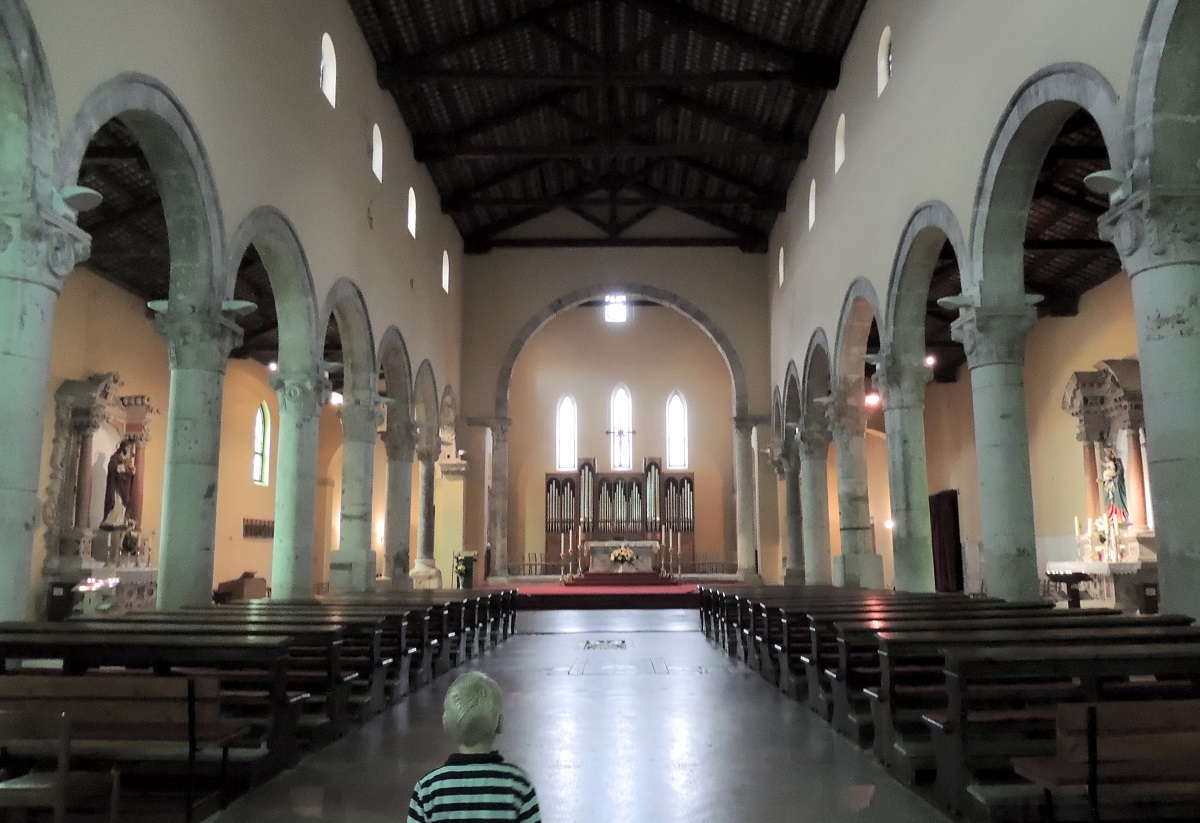 Cathedral of the Assumption of the Blessed Virgin Mary/Cathedral uznesenja Blažene Djevice Marije

: Pula's Cathedral was originally built as a religious building in the 4th century, and the present church was built from the following century. You can e.g. see floor mosaics from the 400s-500s here

.

Small Roman Theater/Malo rimsko kazalište

: On the northeastern slope of the central hill in Pula, you can see the remains of the city's two Roman theaters. There is enough preserved to give a fine impression of the old construction.
[expand title="Read about city history" id="historie2" swaptitle="Hide content"]
Prehistory and Antiquity
The town of Pula is located in a place where remains of human activity from prehistoric times were found. Traces are found in caves, and signs of settlements can be dated at least 4,000 years back in time. These were later fortified homes in the later Bronze Age, and effects and statues from Greek culture have also been found. Thus, Pula has a rich foundation before the historical age.

The Greek historian Strabo lived around the birth of Jesus, and he mentioned in his works that the place was inhabited by the historians who are believed to come from Illyrians or Venetians.

The Romans conquered Istria in the year 177 BC and Pula became an important city in the kingdom. In the 40s BC the city achieved colony status, and at its highest during this period, more than 30,000 people lived here.

Pula's provisional finally came in the year 42 BC. in connection with the Civil War on the power of the kingdom between the triumvirate Octavian, Marcus Antonius and Lepidus and Brutus and Cassius. Pula supported Cassius, and when Octavian emerged victorious from the showdown, Pula was leveled to the ground.

However, the city was quickly rebuilt on the initiative of Octavian's daughter Iulia, and the new town called Colonia Pietas Iulia Pola Pollentia Herculanea. The colony was a new start for the city, which formally belonged to the Venetia et Histria region. The name then became just the Italian Pola.

During this time, the Romans initiated the construction of several large buildings. The most well-known is the large arena of Poland, which was erected in the years 27 BC-68 AD. In addition to the arena, for example, a new water supply was established and city walls and gates were built.

The time after the Roman Empire
With the centuries, the formerly dominant Roman Empire started to falter for the end of disintegration. In the 400s, Goths came in and they also ruled in the city from 493 to 538.

Pola then became part of the growing Byzantine Empire, which in many ways had taken over after the Roman Empire. From 540 to 751 the exarchate of Ravenna was given the control of Pola, and during this time the city grew and developed; For example, Pola became an important Byzantine port city.

After becoming an integral part of the Byzantine Empire for centuries, in 788 Pola became part of the Frankish Empire, and administratively belonged to the Kingdom of Italy.

Venetian era
 In 1148, the city of Venice conquered Pola, which two years later swore allegiance to Venice, a republic in growth. In 1192, Pisa succeeded in capturing the city, which soon came under the control of Venice.

The northern Italian city-states based their strength and strife on an extensive trade, and both Venice, Genoa and Pisa played a role in the development of Poland.

In 1238, Pope Gregory IX formed an alliance against the kingdom of the Franks, and included both Venice and Genoa. The alliance later also went against Pisa, who was close to Pola. For this reason, Venice plundered Pola in 1243. In 1267 and again in 1397, the city was again attacked for plunder; in the latter case it was after a battle between Genoa and Venice that the Genoese triumphed.

On the whole, the 1200-1300s were a changing period with some decline for Pola. The city was several times on both Genoa and Venice, and the two city states fought for the important port of the city. By 1331, however, Venice had become Venetian, which it remained until Venice's final state in 1797.

Napoleon and the Habsburgs
Despite a stable supremacy of 1331, the following centuries were not only peaceful for Pola. Thus, there were attacks by Hungarians, Habsburgs and Genovese alike. Many surrounding villages were abandoned and besides, diseases like plague and malaria also affected.

In the 18th century, the population was down to about 3,000, so it was a small town compared to the much larger and more important Pola of the past, which had had ten times the population.

The city of Venice ceased to exist in 1797, and with Napoleon's treaty at Campo Formio, Pola became part of the Habsburg Empire ruled from Vienna. However, this status only lasted until 1805, when the same Napoleonic French troops conquered the city, which then became subject to the French-supported Italian kingdom.

Napoleon lost after great battles fought in Europe in those years, and Pola, along with Istria, again became one of the Habsburg Empire in 1813. This period lasted until 1918, when the double monarchy of Austria-Hungary perished during World War I.

Under Austrian rule, Pola developed considerably. In 1859 a naval base was established here on the initiative of Danish admiral Hans Birch Dahlerup, who was in Austrian service. Pola's natural harbor became Austria's largest naval port, and yards were also built in the city.

In the 19th century, many companies were also established in Pola, which became a major industrial city. In 1910 the population was over 58,000, and the city also enjoyed being the area of ​​the Austrian court's summer residence. Pola had also been built with prestigious mansions along the city's Riviera, and trams ran through the streets.

1918 to the present day
Most of Istria including Pola was handed over to Italy in 1918. Despite the German-speaking Habsburg dominion, the city had been primarily Italian-speaking, and by World War I, almost 50% of the population were Italians.

Pola became the provincial capital of Italy, but despite this status, the time after 1918 was a tough time for the city. Many inhabitants and activities moved with the Austrians; it was not least about shipbuilding and the many military people who had been posted here. Many Croats who had moved here in the Austrian era also chose to move back to Yugoslavia during the Fascist era that came with Benito Mussolini's rule.

The Second World War was marked by Pola, which was occupied by German troops after the fascist fall of 1943, which maintained a submarine base in the city. The base was the target of several Allied bombings during the war, which led to certain destruction.

After World War II ended in 1945, Pola was administered by an allied military government. The city lay as an enclave on Istria, partly occupied by English-supported Yugoslav forces in 1945. This status was maintained until Pola, with a peace agreement with Italy in 1947, was transferred to Yugoslavia. As part of the new state, many of the Italian majority fled to Italy.

With the transition to Yugoslavia, Pola changed its name to Pula. Today both the name Pula and Pola are seen, as the city, like other parts of Istria, is officially bilingual. Since Croatia's independence in 1991, Pula has been a part of this, and since then, among other things, a university has been established in the city, which remains a major port city and a popular tourist destination.
Skjul indhold her[/expand]
Find cheap flights and hotels