Quebec is the capital of the French-speaking Canadian province of the same name as the city. After Montreal, it is the province's largest city and it offers numerous sights and activities for locals and visitors alike.
Founded in 1608, the city is Canada's second oldest city. In early Québec, walls and fortifications were built around the city according to European model, and they can still be seen as the only one of its kind in the United States and Canada. The walls surround the old town, Vieux-Québec, which is included in the UNESCO World Heritage List.
Québec's skyline is dominated by the impressive and castle-like hotel Château Frontenac, which stands as one of the country's famous old railway hotels. Below the hotel you can see more of the city's history in the interesting citadel, which today hosts the residence of the Canadian monarch.
You can also visit several interesting museums in Quebec, such as the city's national art museum. There are also lovely, recreational areas with the city's many green parks and the entire area along the St Lawrence River, which flows around the island of île d'Orléans just east of downtown Quebec.
Québec Citadel/Citadelle de Québec:

This is a fortress located on the banks of the St Lawrence River.

It was built from 1673 and today it houses Quebec's official residence for the country's monarch.

Québec Museum of Fine Arts/Musée national des beaux-arts du Québec:

This is an art museum founded in 1933. and visitors can

experience a large collection of art from Québec at the museum.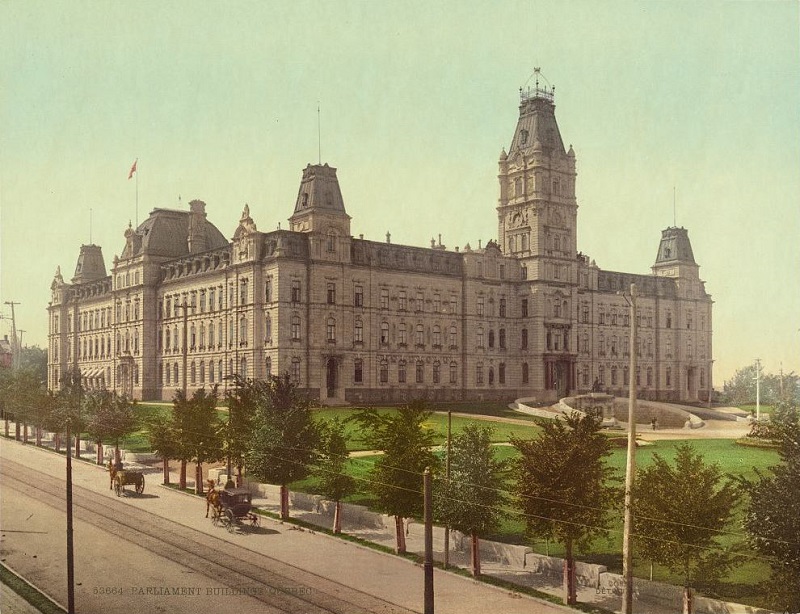 Parliament Building/Hôtel du Parlement:

Québec is the capital of the province of Québec.

This building was built in the years 1877-1886 and is the seat of the provincial parliament.

St.

Louis Gate/Porte St.

Louis:

This is one of the four preserved city gates in Quebec's fortifications that surround the old town.

The others are Porte St.

Jean, Porte Kent and Porte Prescott, which can be seen on a nice walk around the city center.
[expand title="Read about city history" id="historie2" swaptitle="Hide content"]
The city of Québec is the oldest city in French Canada. It was founded in 1608 and contains a number of buildings and an atmosphere that can draw the minds of Europe. Quebec is founded as a city and not like many other settlements that were trading stations.

Already in 1535, attempts had been made to establish a permanent settlement, a fort was built and after some habitation, it was abandoned in 1542.

The city and thus the French colony fell to the English in 1759, and Quebec officially became part of the British colony four years later. At that time, the city had about 8,000 inhabitants, and in terms of building, there were several defense positions and monumental architectural works.

More recently, Quebec hosted two World War II summits. In 1943, US President Franklin D. Roosevelt met with Prime Ministers of Great Britain and Canada, Winston Churchill and William Lyon Mackenzie King, and Chinese Foreign Minister Soong. The following year, Roosevelt and Churchill met again in the city.

Québec has maintained its French culture over time, and today almost the entire population of the city is thus French-speaking.
Skjul indhold her[/expand]
Find cheap flights and hotels