Skagway is one of Alaska's oldest cities, and it is also unique to the cities of southeastern Alaska by being connected to other cities over land. Via the main road through Canadian British Columbia and Yukon, you can drive to the lower 48 states in the continental United States. And Skagway is linked to both Anchorage and Fairbanks in Alaska via Canadian Whitehorse.
The town of Skagway is located in a river valley between the mountains of Alaska. It has well over 1,000 inhabitants, with a significant increase in the summer season, when more than 1,000,000 tourists come to the city. Cruise ships arrive with most visitors, and tourism is an essential part of the city's economy.
Skagway's past as a major mining town can be seen and experienced in several ways. You can take a ride on the charming White Pass and Yukon railroad, which connects the port of Skagway with the town of Whitehorse. The railroad was built from 1898 in connection with the gold fever in Klondike.
Today, Skagway is a cozy town, located in very beautiful settings. There is easy access to the city's streets and sights from the cruise liners, and a stroll down Broadway Avenue is a must. Most of the city's sights and activities are found here, and if you want to see or try the old railway, it is also from the city center.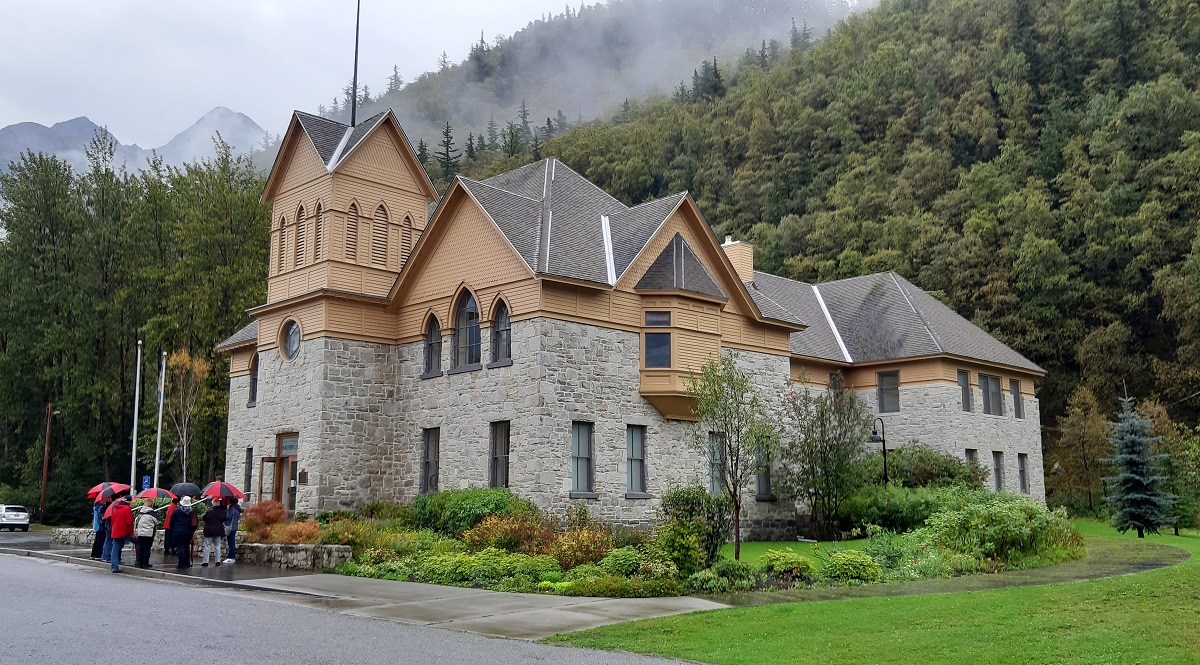 Skagway Museum:

At this museum you can get acquainted with Skagway's history and significance for the Yukon and inner parts of Alaska.

The museum building was built in 1899 as a school, and since then it has housed a court house and prison before it was set up as a museum.

Red Onion Saloon:

During the gold digging period in Klondike, Skagway was a transit site with a lot of activity.

The many golddiggers and gold finds made brothels flourish, and a visit to the Red Onion Saloon is like a trip to the 1890s brothels.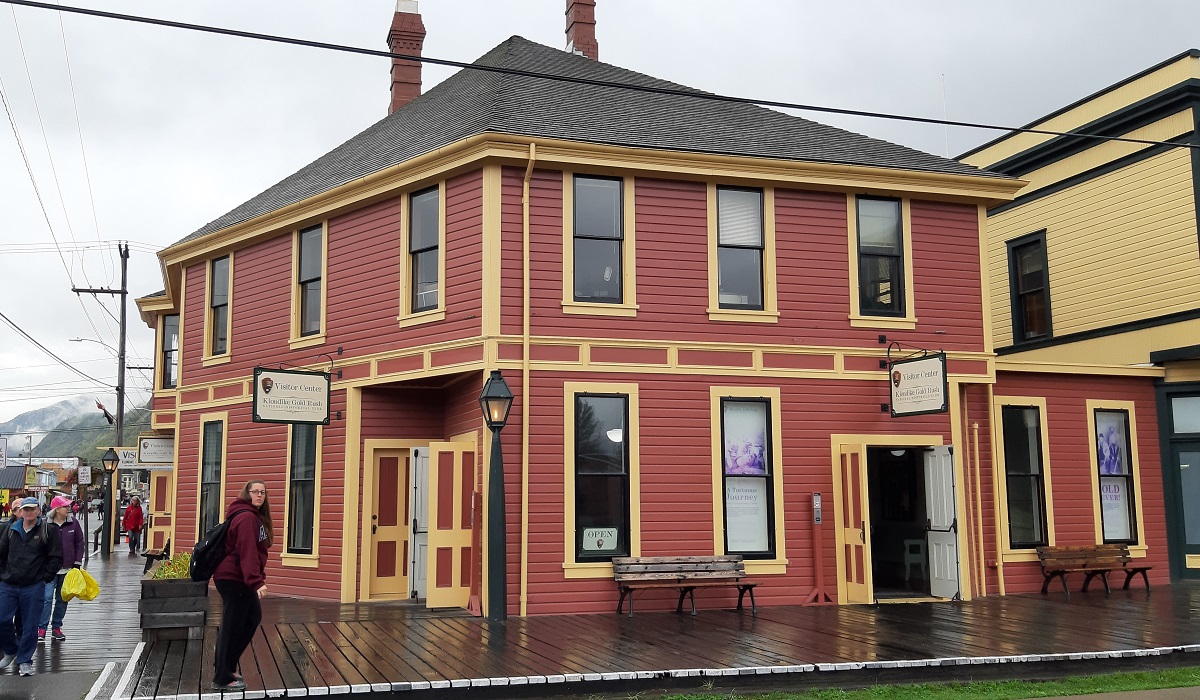 Historic White Pass Yukon Route Depot:

 After the construction of the Skagway and Whitehorse railroad, there was a station in Skagway, and trains ran along Broadway Avenue on the way to and from the station and the old railway depot, which today is the Klondike Gold Rush Historical Visitor Center National Park.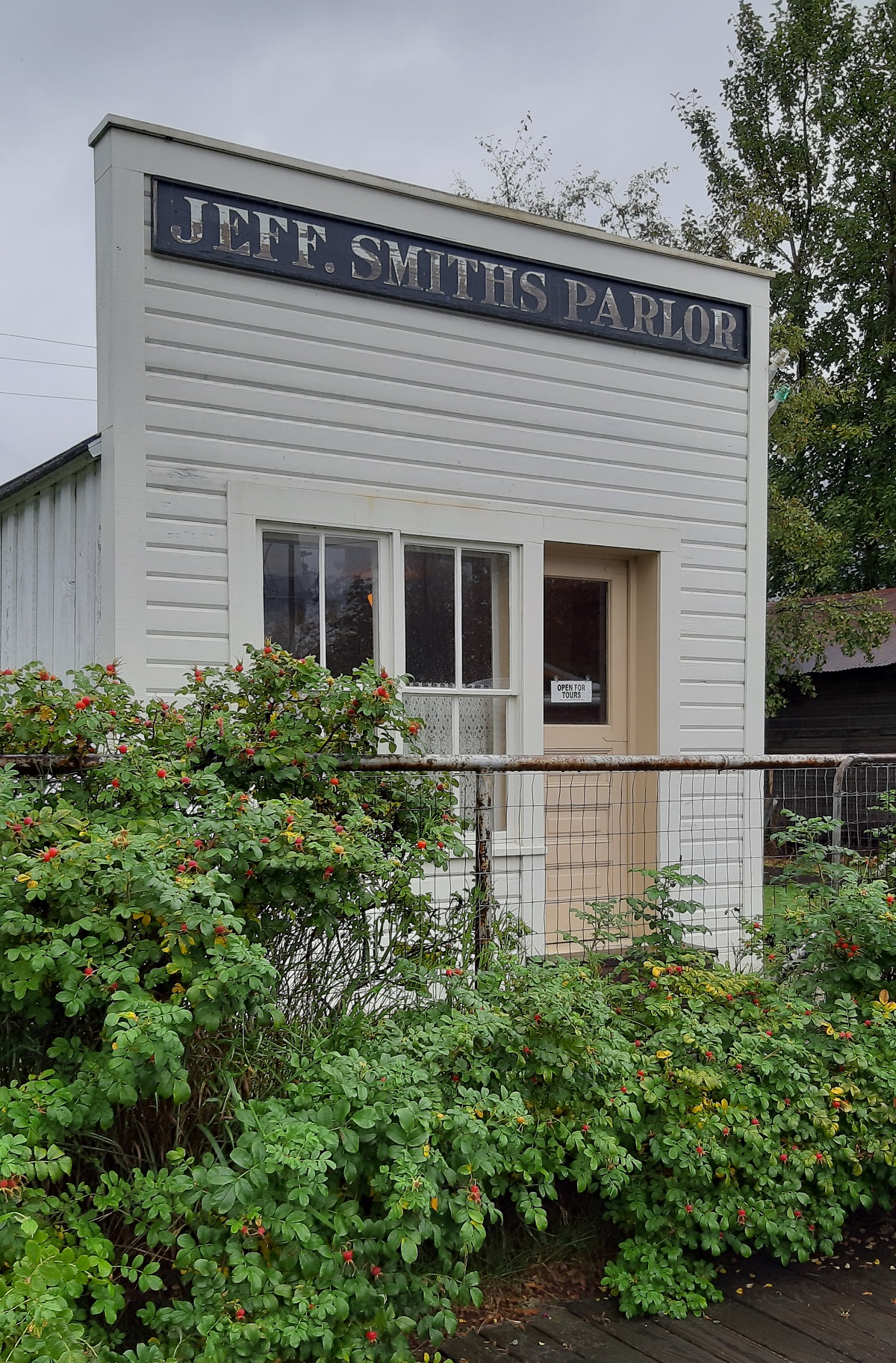 Jeff.

Smith's Parlor:

This modest house was built as Jefferson Randolph "Soapy" Smith's saloon and office in March 1898, and while it provided Soapy Smith revenue, the saloon also served as the city's informal town hall.
[expand title="Read about city history" id="historie2" swaptitle="Hide content"]
Shԍagéi
Skagway's name comes from Alaska's indigenous population, which called the site of Shԍagéi, referring to the strong north winds blowing here. The word also has the meaning of a beautiful woman who, according to mythology, turned into stones in the bay at Skgaway, and which today is the reason for the strong winds through the valleys between the mountains.

Early European History
Significant changes occurred in northwestern North America during the 1860-1870s. The United States purchased Alaska from Russia in 1867, and in 1871 British Columbia joined Canada. With the new situation, Canada wanted to establish the US-Canada border, but it felt the US could not respond strategically and financially.

In 1887 an expedition to the mountains was sent in connection with the surveying of the frontier. The former river skipper William Moore took part in the expedition, and he made the first exploration of the mountain pass, now called White Pass.

Moore, moreover, estimated that gold had to be found in the Klondike area because the mountains here were similar to gold finds in California, Mexico and British Columbia. The same year as the expedition, William Moore and his son, Bernard Moore, claimed a plot of 650,000 m2 at the mouth of the Skagway River. The reason was that William Moore saw the place as the natural passage for any gold finds across the mountains.

Moore and Moore built a log cabin, sawmill and berth in the expectation that many gold hunters would pass by over the years, and that the Moore family was strategically good at earning traffic.

Gold Rush in Klondike Gold
was found in Klondike in the Canadian Yukon in 1896, and it had a huge impact on Skagway. On July 29, 1897, the steamer Queen added to Moore's wharf with the first group of people who would seek happiness in the pursuit of gold. Several ships and thousands of gold hunters arrived after Quuen's arrival.

Moore lost land to many of the lucky knights who both stole and resold land from Moore's area, but the population also exploded in a very short time. It is believed that around 30,000 people came to the area because of the gold finds in Klondike.

Many gave up the long journey towards the gold finds and instead stayed at the estuary to earn money for goods and services for the miners. Within a few weeks, shops, saloons, offices and much more had been built along the hastily muddy streets of Skagway.

In the spring of 1898, about 8,000 inhabitants lived in Skagway, and about 1,000 miners passed through the city each week. In the summer of that year, up to 10,000 lived in Skagway, which in less than a year had become Alaska's largest city.

Chaos and order
With the many new fortune knights in town, some Skagway residents began arranging transports for the gold finds, and this happened at usury prices, which probably much else was also traded in the city. A group of citizens complained about their distress to the city council, which even for many people moved north to make money from the gold.

Instead, Skagway's fate fell into the hands of unscrupulous men such as Jefferson Randolph "Soapy" Smith. Smith managed Skagway with almost all funds used. He provided help to someone, but at the same time he organized scams against those who came through the city. There was obvious prostitution in the streets along with gambling and alcohol.

Soapy Smith made good money. He ran a newspaper in the city and organized a private militia. He had opened the saloon Jeff. Smith's Parlor in March 1898, and although the town had a town hall, it was really from the saloon that Soapy Smith ruled the town. He also offered everyone to send telegraph messages for $ 5 for each message. It sounded fine, but customers did not know that the telegraph first came to Skagway in 1901. Soapy Smith was shot on July 8, 1898 by Jesse Murphy in a famous duel in Juneau.

After the almost lawless time under Soapy Smith, more control of the Skagway came into being, and more demands were also placed on the Gold Hunters. Canada demanded that travelers to the golden areas around Dawson City should each bring about 900 kilos of various supplies, etc., so that people could die of starvation through the cold winter.

New means of transport
The first roads to Klondike were divided in two. Many used the road from Skagway over the White Pass, but the old crossing of the Tlingite tribe from Dyea over the Chilkoot pass was also used. The ships got bigger and most could only add to Skagway, which is why White Pass became the preferred route.

The many kilos made transport across the mountains much more difficult, so that alternatives to hiking with packing and animals were built. In 1898, a roughly 20-kilometer cable car was built from Skagway towards White Pass to facilitate the trip - of course, against proper payment. A cable car was also built along the Chilkoot road over the mountains.

In May 1898, The White Pass and Yukon Route Railway Company began to build tracks in Skagway and across White Pass to British Columbia and Yukon. With both a major port and a railroad, Skagway-White Pass won over Dyea as the preferred transport route towards Klondike. The railroad was completed in 1900, but already the gold fever had worn off.

The beginning of the 20th century
In 1899, the flow of people to the areas at Klondike stopped, causing a sharp decline in Skagway's economy. That same year, the city invested where Alaska's first college was built. Like the railroad, this school opened in the year 1900, which was also the year Skagway formally became a city - incidentally as the first in Alaska. At that time, there were 3,117 residents left in the city.

Skagway had been a boomtown for the short time the gold fever raged in Klondike. The city's downturn was just as rapid as the upturn, and many buildings were threatened with decay and destruction. However, there were some inhabitants, such as Martin Itjen, who wanted to ensure the preservation of Skagway's history.

They kept the city's cemetery straight, bought Soapy Smith's saloon and moved many effects to what became Skagway's first museum. Ijten was the pioneer of preserving history, and he also started tourist bus travel for tourists. Itjen called the Ford bus for Skagway's tram. One of the visitors to Skagway during this time was President Warren G. Harding, who was in Skagway in 1923.

Downturn with continued activity
Skagway's economic downturn after the end of the gold rush was significant, and the city could well have ended up as a ghost town had it not been for the city's port, railway and strategically good location for transport to Yukon.

There were still many Canadian natural resources and large mines in Canada, and the railroad to and from Skagway created jobs and foundations for the city, which, however, had become much smaller than in the gold fever days. For many years the railroad was the only road over White Pass, but that changed in 1979 when a highway was completed. The road took over the role of the railway and the railway closed in 1982.

The tourists' Skagway
In the last decades of the 20th century, most tourists still came to Alaska and Skagway, which with its harbor and history was interesting for cruise ships. Many new tourist activities and tours were developed to entertain guests in the city and also serve Skagway's winter economy when the tourists did not come.

In 1988, the White Pass and Yukon Route reopened the tourist train to White Pass and on to Canada with tourists who could thus experience Canada and, not least, the gold fever road towards Yukon.

The number and size of cruise ships has increased explosively in recent decades, and Skagway is therefore a busy tourist town during the summer season. Broadway Avenue's main street stands beautifully, and many shops, cafes and museums welcome tourists to the city, which today has about 1,000 residents.
Skjul indhold her[/expand]
Find cheap flights and hotels