Namibia's capital Windhoek is located at a height of 1,600 meters/5,200 feet in the middle of a country characterized by beautiful and diverse nature and culture. The city is centrally located in the country which is among the least populated in the world in relation to the size.
Windhoek is a modern city where well-preserved buildings from not least the German colonial period are among the many sights. Later constructions of the South African and the independent eras are of course highly present as well. Overall, it provides an exciting historical cocktail of architecture and buildings which make a pleasant setting for visitors.
A walk along the Independence Avenue, the main street of the city, is a must do, as some of the city's well-known buildings are located along it. Other roads, such as the Main Street and the Post Street Mall pedestrian zone also start from the avenue. It is also the place where you get the impression of Windhoek as a capital with tall buildings and bustling streets; and at the same time there are lovely parks and low colonial style buildings along it.
From the German colonial period there are many buildings such as the castle of Alte Feste, which is now a national museum, the gymnasium Turnhalle, the railway station and the perhaps most famous and beautiful; Christ Church, located directly in front of the Tintenpalast Parliament.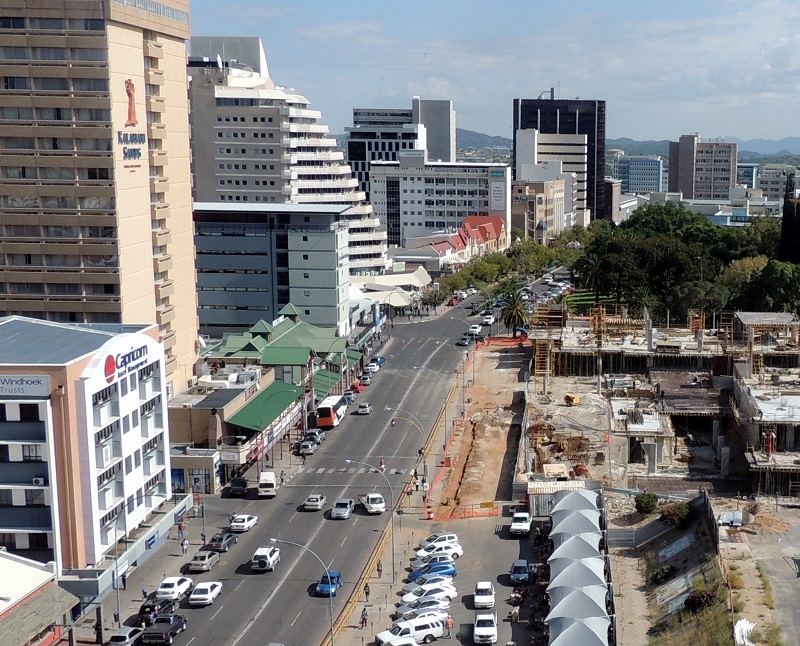 Independence Avenue:

 Independence Avenue is the main thoroughfare through Windhoek.

Until 1990, the street was called Kaiserstraße as in German times. Today there are quite a few sights, shops and a good atmosphere here.

Post Street Mall

: Post Street Mall is Windhoek's central pedestrian street.

There was car traffic through the street until the mid-1980s, which is a wonder today when the quite narrow pedestrian street has been established.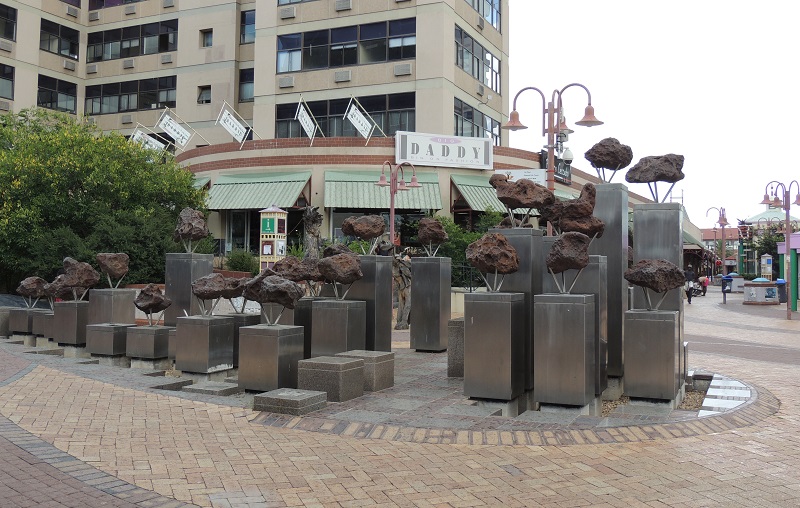 Gibeon Meteorites

: When Dr.

Paul Range as state geologist for the government of German South West Africa found 37 meteorites in the Gibeon area in the years 1911-1913, he created the basis for this attraction in today's Windhoek.

Zoo Park

: Zoo Park is a beautifully landscaped green area with an outdoor theater and hiking trails around a small lake. There used to be a zoo here, but today it is only the name that reminds of the garden.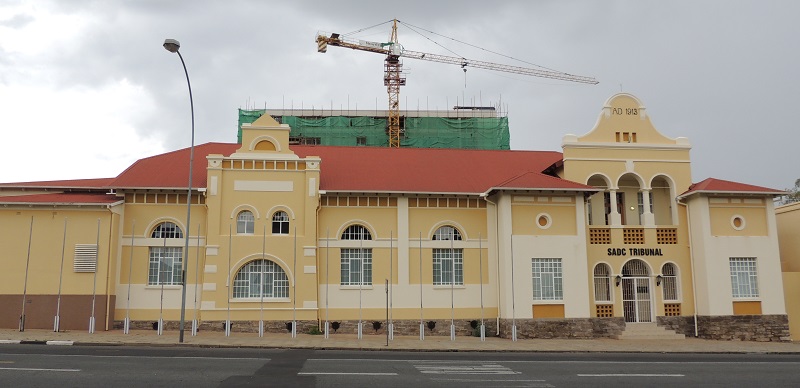 The Gymnasium/Turnhalle

: This

gym

is a sports hall built in 1909 in elegant Wilhelminian colonial architecture. It is no longer used as a gymnasium, but it stands as a beautiful building from the colonial era.

National Botanic Garden

: The Windhoek

Botanical Garden

is located close to the city center and is a great place to get acquainted with Namibia's varied flora.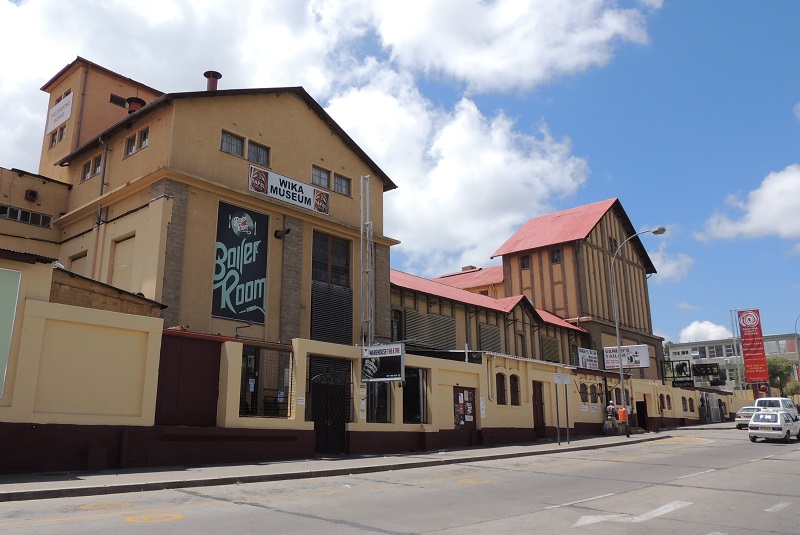 The Old Brewery & Namibia Arts and Crafts Center

: Old Brewery is where the former South West Breweries brewed beer.

It started in 1902 in the country's German era.

Today it is set up as a center and market for Namibian crafts.
[expand title="Read about city history" id="historie2" swaptitle="Hide content"]
The early Windhoek
The first settlements in the present Windhoek took place due to the sources that were located here. The area's name in several tribal languages ​​also reveals precisely that fact; / Ai - // Gams in the Nama language and Otjomuise in the Herero.

The more recent history and the beginning of the actual city happened initially with the black captain Jan Jonker Afrikaner's establishment in the present Klein Windhoek in the 1840s. Africans spoke the Boer language in Afrikaans, and with him the settlement was also named Windhoek, which can refer to the Winterhoek Mountains in South Africa. They were close to the homes of Africans. 

First development
After Jonker Afrikaner's start, the building was quickly built and built in Windhoek, where the Namas from the south and the heroes from the north met. Among other things, Africans built a stone church that could accommodate about 500 people. The church was also used as a school, and missionaries Hugo Hahn and Heinrich Kleinschmidt started work here in the 1840s.

Buildings shot up, and parks were also constructed. It was a growing city, however, which stopped abruptly with several wars.

Hugo Hahn had left Windhoek, and after many years returned to the city in 1873. Here he found that the former prosperity was gone, and over the years the town was abandoned. 

Colonization
Britain annexed Walvis Bay in 1878 and incorporated it administratively in their Cape Province, with its center in Cape Town.

The English were not immediately interested in the hinterland, and here the German South West Africa grew instead. In 1884, the country was declared German Protectorate, and in 1890 German South West Africa / Deutsch-Southwest Africa became an actual colony in determining the boundaries of the territory.

In this connection, Germany sent troops there, the so-called Schutztruppen. The garrison was located in the strategically located Windhoek, whose sources nourished food cultivation. The garrison was led by Curt von François, who founded the present Windhoek on October 18, 1890. It happened with the foundation stone of the city fort; the present Old Feast.

The city grows
The decades after von François's founding in 1890 started with a slow growth, in which only the most necessary public buildings were erected. Added to this were private buildings, which among other things happened on parcel of land in Klein Windhoek, where farmers started cultivating, for example, fruit and tobacco and farming cattle.

From 1907 the development took off. Settlers came to Windhoek in increased volume from both Germany and South Africa. Buildings and businesses shot up; eg along the main street Kaiserstrasse (today's Independence Avenue). New defense positions were also created in the form of the three smaller castles Sanderburg, Heinitzburg and Sperlingslust, which today is known as Schwerinsburg.

New rulers
With Germany's warfare and defeat in World War I, the country's status as a colonial power ended. On behalf of Britain, South African troops occupied German South Africa, and they arrived at Windhoek on May 12, 1915. From that time until after World War I ended, the now former German colony was ruled by a military government before the 1919 country was administered and ruled by South Africa as a mandate area under the League of Nations.

Namibia never became an official part of South Africa, although it was administered as a fifth province in the southern neighboring country. For example, Namibia was represented in the South African Parliament. 

Development and independence
After World War II, the economic climate improved and in Windhoek it provided new development; especially from the mid-1950s. Investments were made in new schools and hospitals, paved roads and essential infrastructure such as water supply were modernized.

In the decades after World War II, many colonies in Africa gained independence, and from the 1950s pressure on South Africa increased to make the territory of Namibia independent as well. Over the years, some farmers came from South Africa, and they developed agriculture, and the general development naturally affected the Windhoek economy.

The new Namibia
South Africa in 1988 helped make Namibia independent, and in 1990 Namibia gained its independence. This made Windhoek the capital of the new country. As early as the mid-1980s, Windhoek had grown considerably, and it continued to gain strength after independence.

Since then, the infrastructure has been expanded, new suburbs have sprung up, and generally it has invested heavily in the city center with public and private facilities.
Skjul indhold her[/expand]
Find cheap flights and hotels